The opening round of the 2018 Welsh MTB XC Series opens on Sunday 29th April 2018 in Pembrey Country Park, Carmarthenshire.
Welsh Cycling will host the first round of the Welsh Mountain Bike Cross Country series, which will consist of five rounds.
From 09:00 until 16:00, there will be races for U6s through to adults; including categories for beginners / novices.
As well as on the bike, Welsh Cycling are pleased to welcome a variety of businesses to accomodate spectators and family, including Alfie's Beer Bus, Cwtch Cafe, Army Reserve Unit and Big Bottle Hat Co.

Coleg Sir Car will also be present on site for the public to get involved with a fun Watt Bike competition.
Events Officer at Welsh Cycling, Lyn Ryland said "We are delighted to be hosting round 1 of this year's Welsh MTB XC; one of our most popular series.
"We are excited to welcome the lovely organisations that are joining us for the day, which will help to give families a fun experience whilst they watch the racing.
"We encourage everyone to pop down, whether they are racing or not and enjoy the day - camping is also available!"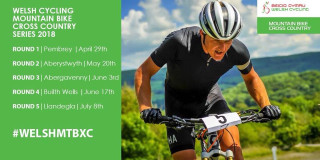 More information about the series here.
The series opens down West in Pembrey Country Park, Carmarthenshire on the 29th of April.
Read more at https://www.britishcycling.org.uk/news/article/20180411-welsh-cycling-news-2018-Welsh-Cycling-MTB-Cross-country-Series-0#vRi6SD8CW21538mJ.99
The series opens down West in Pembrey Country Park, Carmarthenshire on the 29th of April.
Read more at https://www.britishcycling.org.uk/news/article/20180411-welsh-cycling-news-2018-Welsh-Cycling-MTB-Cross-country-Series-0#vRi6SD8CW21538mJ.99