Corinne Side made the most of round one winner Pfeiffer Georgi's absence to top the general classification after day one of the latest British Cycling | Junior Women's Road Series in Redbridge.
Side (Racing Chance Foundation) rode away for a fine solo victory in the circuit race after April Tacey (Team 22) had earlier won the TT prologue on day one of the three-stage round two event.
Series leader and emphatic round one winner Georgi was absent due to competing overseas, along with the majority of her Liv Halo teammates who had dominated the opening round, meaning this was a chance for other series contenders to make hay while the sun shone at Redbridge Cycling Centre.
And Side, third in last weekend's opening round, certainly did that, sitting top of the general classification at 1:04:11.95, ahead of Kate Wootton (Cycle Team OnForm) on 1:04:25.42 with Tacey third going into day two where riders move north for ten laps on the open road at the popular Great Thurlow circuit.
"That was never part of the plan" admitted Side after her breakaway win. "It wasn't so much of an attack as I just found myself riding on my own after the others fell away. I just went for it and tried to keep it going."
Stage 1: Prologue
Riders were restricted to standard road-bike set-ups for the one-lap prologue, the only concession to specialist TT equipment allowed being aero helmets.
In such a short stage, any notion of pacing was eschewed in favour of a near maxima effort for the length of 2.1km circuit, which started with a descent of Redbridge's infamous 'Hoggenberg' hill before traversing the flat bottom sections of the circuit and finishing with a long drag to the finish via the 'alpine' bends.
On such a short circuit finishing times were always going to be close so Tacey's winning time of 3:12:71, a winning margin of almost four seconds ahead of Side was an impressive display.
Third place on the podium went to Liv Cycling Club - Halo Cycles Alana Prior, a strong stage one showing for one of the pre-race favourites for the overall title.
"That was hard" said Tacey. "I went all out and it was a max effort all the way. There were lots of bends. I raced here at the inter-regional youth championships in 2014 and fell off on one of those bends so I was mindful of that but it went well."
Stage 2: Circuit race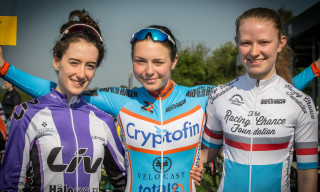 The afternoon circuit race saw the more traditional anti-clockwise full circuit used for a 40km race that took the riders up the Hoggenberg at the end of every lap, for a gruelling 18 ascents in total.
The race was lit up in the early stages by a series of attacks, first by Katie Scott (Hargroves-Ridley-Montezumas) and Marie Lynn (Boompods EDCO NRG) before Scott opened up a 35-second lead in an impressive solo break.
All the main teams were active on the front before a brief flurry of activity saw a dangerous pairing of Side and junior TT champion Caitlin Peters (I-Team Cyclists Club) open up a sizeable gap before Peters fell back into the change pack.
A small group then emerged as a fast chasing bunch including Prior, Lauren Higham (LIV AWOL) and Wootton.
Wootton and Higham broke clear of the other chasers and, as the pack closed in behind, looked as though they might bring lone leader back but Side hung on impressively for a fine solo won to add to her third-place finish from round one seven days previously.
GC results
1. Corinne Side (The Racing Chance Foundation) 1:04:11.95
2. Kate Wootton (Cycle Team OnForm) 1:04:25.42
3. April Tacey (Team 22) 1:04:31.38
4. Alana Prior (Liv Cycling Club – Halo Cycles) 1:04:36.75
5. Gabriella Homer (Cycle Team OnForm) 1:04:39.12
6. Lauren Higham (LIV AWOL) 1:04:41.01
7. Ellen Barker (Cycle Team OnForm) 1:04:41.70
8. Marie Lynn (Boompods EDCO NRG) 1:04:42.22
9. Katie Scott (Hargroves-Ridley-Montezumas) 1:04:43.14
10. Holly Hoy (Cycle Team OnForm) 1:04:43.15
Gallery