The series provides a brilliant opportunity for youngsters to try their hand at mountain bike racing where they are given points for their finishing position; as well as upon completion of different skills challenges.
The Go Race Mountain Bike series 2018 starts on Sunday 18th March at 2pm in the scenic setting of Nant Gwrtheyrn, in a magical place located in a former quarrying village on the northern coast of the Llŷn Peninsula in North Wales.
The course winds its way through the forest surrounding the National Welsh Language and Heritage Centre and uses part of the Downhill track used in National Series.
Signing on and course practise is from 1:00pm with racing starting at 2pm.
With previous winners having progressed to National races and even the Welsh & British Talent Pathways, the series provides a brilliant platform for youngsters to gain racing experience at grassroots level.
From the woods of Betws y Coed and Coed y Brenin, to the slate quarries of Llanberis, the 2018 series will provide challenging, fun races on varied terrain. The series will be hosted by a handful of the region's clubs including Clwb Beicio Dwyfor, Clwb Beicio Mynydd Dyffryn Conwy & Dreigiau Coed y Brenin.
Go Race MTB Series dates for 2018
Race Date Venue Hosted by
1 18-Mar Nant Gwrtheyrn, LL53 6NL – Clwb Beicio Dwyfor
2 7-Apr Coed y Brenin, LL40 2HR - Dreigiau Coed y Brenin
3 13-May Nant BH, Llanwrst. LL27 0JB – CBM Dyffryn Conwy
4 9-Jun Parc Gwledig Padarn. LL55 4TY
5 14-Jul Marsh Tracks, Rhyl. LL18 2AD
6 13-Oct Nant BH, Llanwrst. LL27 0JB – CBM Dyffryn Conwy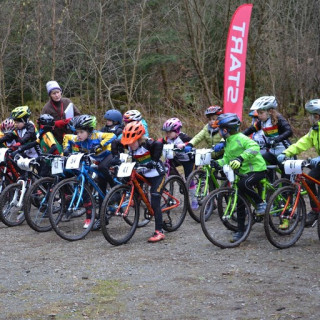 Entry fee per race: £4.00 for BC Members, £6.00 for non BC
Members. You can join British Cycling on the day if you wish.
Classes for under 16's down to the under 6's with separate classes for both boys and girls. Classes will be determined by the age of the Competitor on the 1st January 2018 and will race in that age Category throughout the Series – see below
Under 6 – Born in 2012 or younger
Under 8 – Born in 2010 or 2011
Under 10 – Born in 2008 or 2009
Under 12 – Born in 2006 or 2007
Under 14 – Born in 2004 or 2005
Under 16 – Born in 2002 or 2003
The race day will consist of a multi lap cross country race and a Skills test. Competitors can attempt the skills test at any time whilst the XC racing is in progress.
Points scored from both events will go to your overall tally for the day and towards your Series standings.
Finally coming soon new for 2018 Go Race Circuit Series
For further information contact Tim Matthews
Hyfforddwr HSBC UK Go-Ride (Gogledd Cymru) / HSBC UK Go-Ride Coach (North Wales)
Email – tim.matthews@welshcyling.co.uk or Mobile 07718578433