British Cycling is pleased to announce the dates for the British Cycling Junior Women's Series, British Cycling Junior Men's Road Series, and the British Cycling Youth Circuit Series.
The Junior Women's Road Series, which takes place for the first time in 2018, will see a series of four events kick off in the East Midlands on Sunday 15 April and will conclude in August with the Screentek International North West Junior Women's Tour, a three-day stage race held in Lancaster.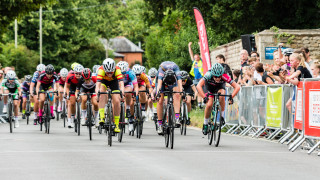 The Junior Men's Road Series begins on Sunday 25 March with the Cadence Junior Road Race in South Wales. This will be the first of nine events across the country with a combination of single day and stage races, concluding with the Junior Tour of Wales in August.
The Youth National Circuit Series will see seven events in 2018, starting with the Torbay Youth National Series and seeing the return of the Isle of Man Youth Tour. The series will also see a new two-day youth stage race in London and concludes at Brands Hatch on 15 September.
2018 British Cycling Junior Men's Road Series
Sunday 25 March
Cadence Junior Road Race, South Wales
Saturday 7 April - Sunday 8 April
Junior Tour of the Mendips, Bristol
Friday 4 May - Sunday 6 May
Isle of Man Junior Tour, Isle of Man
Sunday 3 June
Junior CiCLE Classic, Rutland
Saturday 9 June - Sunday 10 June
Spokes Cycles Junior 2-day, Scotland
Sunday 24 June
Cwmtillery Glass Centre Monmouthshire Junior GP, South Wales
Sunday 8 July
Hatherleigh Junior Road Race, Devon
Sunday 22 July
Bath RC Junior Road Race, Bedfordshire
Friday 24 August - Monday 27 August
Junior Tour of Wales, South Wales
2018 British Cycling Junior Women's Road Series
Sunday 15 April
The Witham Hall Junior Women's Grand Prix, East Midlands
Saturday 21 April - Sunday 22 April
Junior Women's Giro, Essex
Sunday 8 July
Dave Rayner Fund Junior Women's Race, Scarborough
Saturday 25 August - Monday 27 August
The Screentek International North West Junior Women's Tour, Lancaster
2018 British Cycling Youth Circuit Series
Sunday 25 March
Riviera Youth Classic, Torbay
Friday 4 May - Sunday 6 May
Isle of Man Youth Tour, Isle of Man
Saturday 2 June
Hillingdon Slipstreamers, Hillingdon
Saturday 30 June - Sunday 1 July
London Youth 2-day, Redbridge & Cyclopark
Saturday 25 August - Monday 28 August
North West Youth Tour, Lancaster
Sunday 9 September
Pembrey
Saturday 15 September
Brands Hatch