Australia powered to a convincing 95-84 victory in the first match of the three-test cycle speedway Ashes series against Great Britain Cycling Team at Findon, Adelaide on Tuesday evening.
The encounter was explosive team racing at its best in front of a loud and vocal crowd to match the intense rivalry on track.
It started well for Great Britain Cycling Team, with Myke Grimes racing to victory in heat one, while Zac Payne came home third for a 6-4. They surrendered the lead in the following heat as Joel Chadwick and Shane Bentley set the scene for the night with a 7-3 against Timms and Heard, which saw the hosts take a lead they would not give up.
Josh Brooke and Lewis Osborne hit back with a 6-4 in the third but the Aussies answered back again, taking two 6-4s from the next four heats, with Mould and Brooke steadying the GB ship with races wins in the other two.
Disaster struck in heat eight, as GB conceded their first 7-3 after the impressive Joel Chadwick passed Zac Payne before hunting down Myke Grimes on the final corner, the British champion unaware that Chadwick had made up the substantial gap that had appeared earlier in the race while trying to find a way past Bentley, catching him out to take the maximum points for the home side.
GB hit straight back with their own 7-3 courtesy of Mould and Heard in heat 9, which meant Australia were leading by four points at the halfway stage.
Australia came out fighting in the next three heats, taking two 6-4s and a 7-2 to pile the pressure on Lee Aris' men. Josh Brooke moved at the gates in heat 11 seeing Australia start to pull away. Grimes and Payne answered back with a 7-3 over Cody Chadwick and Ty Geertsen to give GB a glimmer of hope.
However, two more 6-4s effectively ended GB's chances of revival, Timms and Grimes took advantage of Geertsen and Robb both spinning out of the gates to race off to a maximum score, while Heard and Mould took another 6-4.
Joel Chadwick capped off a dominating night by taking his fifth maximum heat advantage with brother Cody, in heat 18 over Brooke and Payne, to end the match and win by 95-84.
The second test takes place at Murray Bridge on Sunday.
Result
Australia 95
Ross Priest 8, Daniel Robb 11+2, Joel Chadwick 17+3, Shane Bentley 19, Ty Geertsen 9, Cody Chadwick 14+1, Bobby McMillan 7, Ryan Edson 10.
Great Britain 84
Myke Grimes 16, Zac Payne 9+1, Paul Heard 12+1, Chris Timms 10+1, Josh Brooke 11, Lewis Osborne 6, Jack Harrold 4, Ben Mould 16.
Junior series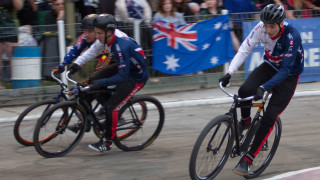 Great Britain Cycling Team's juniors dominated from the outset against a battling Australia side for a 98-90 win.
Britain registered five heat advantages in a supremely exciting first half, with passes galore from both sides. Australia gave resistance with two of their own heat wins in the open nine heats.
The second half was a closer affair as Great Britain avoided any risks, managing to take four heat advantages to Australia's two, to see the match out.
Sheffield's Ed Morton top scored for GB, dropping just one point, along with Will Jeffery, as all riders chipped in with important passes and crucial points scores.
Result
Australia 80
DJ Thompson 11, Brodie Wohlschlager 8, Matty Snowden 16, Todd Clarke 7+1, Aussie Jones 11+1, Jack Norman 17+1, Michael Ratcliff 7, Blade Blatchford 3.
Great Britain 98
Ewan Hancox 11+1, Brandon Whetton 14+3, Carl Parfitt 6+1, Ed Morton 19, Adam Watson 12+1, Haydn Rowley 16+1, Will Jefferys 11, Fraser Garnett 9+1.