The 2017/18 HSBC UK | Cyclo-Cross National Trophy reaches round three this weekend with Shrewsbury Sports Centre hosting two days of action.
Bethany Crumpton and Ian Field have established overall leads in the elite women's and men's categories respectively after two rounds with Crumpton holding a 100% record.
About the series
The HSBC UK | Cyclo-Cross National Trophy is a six-round competition which takes place between October and January, with a rider's best five scores from the series counting towards their overall total.
The series opened at the Moorways Centre in Derby with defending men's champion Ian Field picking up the win, while Bethany Crumpton got off to the perfect start in the women's competition.
Thrills, spills and no shortage of great racing at round two of the HSBC UK | Cyclo-Cross National Trophy in Abergavenny. #NationalTrophy pic.twitter.com/tzD4MD41Mn

— British Cycling (@BritishCycling) October 30, 2017
The second round saw Crumpton win once again while Tom Pidcock beat Field at the Abergavenny Leisure Centre.
This weekend sees the series visit Shrewsbury before a trip to the Cyclopark in Gravesend on 26 November.
Peel Park in Bradford hosts round five in December before the series concludes at Trinity Park in Ipswich on 7 January.
Elite, under-23 men and junior men
British champion Ian Field (Hargroves-Ridley-Montezuma) sits at the top of the elite men's standings after a win in Derby followed by second in Abergavenny.
Field was forced off the top of the of the podium in Wales as the talented Tom Pidcock continued his amazing 2017 with another victory.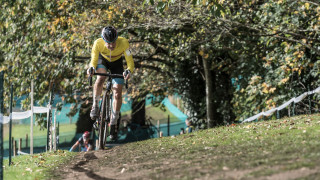 Field will start as favourite with Pidcock absent but the return of Yorben Van Tichelt (Era-Circus) bolsters the competition - the Belgian was second at round one.
Paul Oldham (Hope Factory Racing) and David Fletcher (Sherwood Pines Cycles- Forme) have recorded top-five finishes and top under-23 rider Billy Harding, who is also second overall in elite men, will look to continue his strong campaign.
Joe Williams, Ben Turner and Dan Tulett are in a mix of under-23 riders who could end Harding's perfect season to date in the category.
European bronze-medallist Ben Tulett (Beeline Bicycles RT) tops the junior men's standings having taken the win in Derby and third in Abergavenny.
Lewis Askey is not set to start after successive second-place finishes, but round two winner Sean Flynn will race, starting just two points behind Tulett.
Elite, under-23 and junior women
Storey Racing's Bethany Crumpton has taken the plaudits with two commanding victories in the opening rounds of the elite women's competition.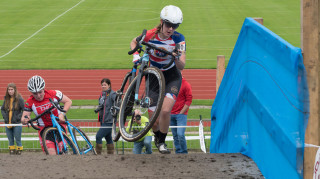 Under-23 rider Anna Kay (EDCO Continental) has been Crumpton's key challenger so far, twice crossing the line in second.
Junior Harriet Harnden has been hugely impressive, second followed by seventh in elite women while Amira Mellor (PH-MAS/Paul Milnes/Oldfield) and current series champion Hannah Payton (Team Kinesis UK) will aim for their first podium in the series.
Under-23 riders Ffion James (Abergavenny Road Club) and Emily Wadsworth (Beeline Bicycles RT) will look to get in the podium mix.
Schedule
Veteran races take place on Saturday with elite, junior and youth races taking place on Sunday.
Junior men begin the action on Sunday at 10am, followed by the youth girls at 11am and youth boys at 12.05pm.
Elite, under-23 and junior women start at 1.30pm, with elite and under-23 men racing at 2.45pm.
How to follow