Welsh Professional Riders Scott Davies and Amy Roberts, assisted the Mayor of Carmarthen with the official re-opening of the velodrome, which took place on Tuesday 24th October at Carmarthen Park.
Local Cycling Club Towy Riders also enjoyed the first ride of the newly opened track.
The £600,000 renovation project has seen more than 230 concrete panels replaced, in the hope of increasing interest in cycling and bringing high class racing to the area.
Towy Riders coach Emyr Griffiths added "This was Towy Riders' hub...we've been away from this location for a while and we're looking forward to coming back."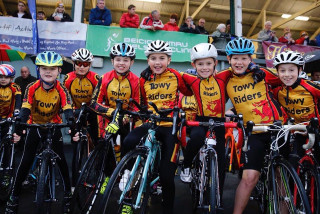 The project was funded by Carmarthenshire Council, Sport Wales and Carmarthen Town Council who will now manage the track, which will be available to use up to 6pm Monday to Friday, and all day Sunday.
There is also an exclusive offer for Ladies Only and Men Only Coach Led Racing for British Cycling Members on the track on Thursday evenings for five weeks from the 9th of November.
Chief Executive Officer, Anne Adams-King said "We are thrilled with the result of what has been a four year renovation project.
"The excitement and support across Wales surrounding the project has been over whelming - and it was great to witness so many people braving the rain to come to the re-opening this evening, including the local clubs.
"Having both Scott and Amy back at the track where it all began for them was really inspiring for the kids, and we hope this facility will help to further develop the riders in the area.
"We'd like to thank everyone involved and look forward to the next chapter for Cycling in West Wales."