The HSBC UK Guided Rides, which remove the hassle of organising a bike ride, will lead riders through some of the Welsh Capital City's best routes throughout the autumn.
The Rides are designed for all levels of ability, confidence and experience - and are also a great opportunity to meet other local people in the city.
The first ever HSBC UK Guided Ride in Cardiff, which took place last month, was a great success with over 20 riders taking part.
British Cycling policy advocate, and Great Britain's most successful Paralympian, Dame Sarah Storey, said:
"HSBC UK Guided Rides are a brilliant option for cyclists of all levels, but particularly for people who are either getting on a bike for the first time or for people who haven't cycled for a while".
From a gentle 6 mile ride in the beauty of Cardiff bay to a challenging 28 mile scenic route from Maindy Cycling Stadium through the quiet country roads of the Vale of Glamorgan, there is something for everyone to enjoy this autumn.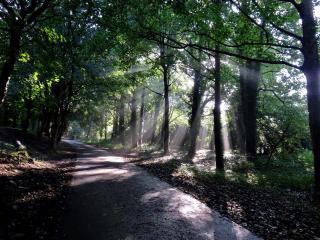 Peter Bradbury, Cabinet Member for Culture and Leisure at Cardiff City Council, added:
"The Council has made it clear that we want to increase the number of people that cycle in the city.
"This is an excellent opportunity for people to get their bikes out of the garage and give it a go.
"I hope that everyone that takes part enjoys the experience."
Chief Executive Officer at Welsh Cycling, Anne Adams-King, added:
"We are thrilled with how the HSBC UK Guided Rides have been perceived in Cardiff so far and we are looking forward for even more people to find out about them and join in."
HSBC UK Guided Rides – October - November listings
Saturday 28th October 2017 9:30am
Starting at - Maindy Stadium, CF14 3AJ
Hybrid (road tyres), Road
28.3 miles
Sunday 29th October 2017 10:00am
Starting at - Coffi Co., Harbour Drive, Cardiff Bay, CF10 4PA
All bike types
17.5 miles
Sunday 12th Novmeber 2017 11:30am
Starting at - Outside Coffi Co. , CF10 4PA
Sunday 19th November 2017 10:00am
Starting at - Coffi Co., Harbour Drive, Cardiff Bay, CF10 4PA
All bike types
17.5 miles
Sunday 26th November 2017 10:00am
Starting at - Maindy Stadium, CF14 3AJ
Hybrid (road tyres), Road
28.3 miles
For more information on the rides and to book your place, please click here