Mobike journeys will be free of charge on Tuesday 10 October, as the bike-share operator and British Cycling mark World Mental Health Day by encouraging people in Manchester and Ealing to discover the mental health benefits of cycling.
Smart and sustainable bike-share platform Mobike launched in the UK in June, and last week announced a new collaboration with British Cycling to inspire two million people to get on a bike and create a healthier, happier and greener Britain.
The bikes will be free of charge all day, and those who have not downloaded the app already are encouraged to make the most of Mobike's current deposit offer. The one-time refundable deposit - which is usually £29 - has been reduced to just £2 until Wednesday 18 October.
Julie Harrington, British Cycling's chief executive officer, said: "This is just the first step in our exciting new collaboration with Mobike which aims to get more people out of their cars and incorporate cycling into their daily routine. We know that a healthy body is vital for a healthy mind, so what better way to mark this year's World Mental Health Day than with a bike ride."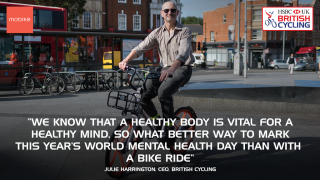 The offer follows statistics released last week which revealed that 12% of cases of depression could have been prevented if participants undertook just one hour of physical activity each week.
The largest study of its kind, published in the American Journal of Psychiatry, worked with over 330,000 Norwegian adults over a period of more than 11 years to analyse levels of exercise and symptoms of depression and anxiety. The results also highlighted that the mental health benefits of exercise are seen regardless of age or gender.
A separate survey commissioned by British Cycling last month found that 61% of UK adults who provided an answer said taking part in a sporting activity has improved their mood, while 55% say it has made them feel less stressed.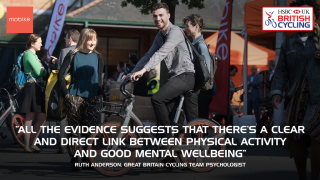 Ruth Anderson, Great Britain Cycling Team psychologist, said: "All the evidence suggests that there's a clear and direct link between physical activity and good mental health. Getting out on a bike for just a relatively short period of time is a fantastic way to combat the stress of everyday life and enhance your psychological wellbeing."
Mobike has seen great success in the UK since June's launch, with ridership peaking at just under ten trips per bike a day.
Weiwei Hu, founder and president of Mobike, said: "Mobike is proud to be to be part of this initiative.
"Allowing Mobikers and Mobikers-to-be to use our bikes for free will hopefully encourage people to enjoy cycling as a way to help keep healthy, both mentally and physically. World Mental Health Day is giving us the opportunity to communicate on one of the many life changing aspects of cycling, as we continue our commitment to get more people on bikes across the world."
How to use Mobike - it's easy!
Download the Mobike app and register.
Us the app to find your nearest bike and scan the QR code on the bike. With Mobike's proprietary smart-lock technology, scanning the QR code instantly unlocks the bike and allows you to ride it away.
To complete a ride, park the bike at any authorized bike parking areas near to your destination and manually close the lock on the bike.