Great Britain Cycling Team's Kyle Evans finished fifth in the semi-finals of the UCI BMX Supercross World Cup in Santiago del Estero.
The British rider missed out a first world cup final of the season by less than half a second.
His teammate Tre Whyte reached the quarter-finals in Argentina.
Evans' day started well as the 2016 Olympian powered to a first round heat win, and his blistering pace continued in the 1/8 finals.
Evans was dominant once more, afforded the opportunity to ease up in the middle section of the race before comfortably crossing the line in first place.
His brilliant form in recent weeks has been driven by his incredible speed out of the start gate - but his start in the quarter-finals almost cost him a chance of any further progression.
The British rider did not start well - but showed great character and determination to recover, before finishing third to book his place in the semi-finals.
Despite a strong start in his heat, Evans was beaten to fourth place by Canada's James Palmer.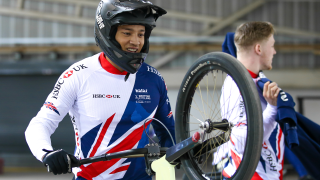 Tre Whyte's run ended in the quarter-finals after the British rider was held up by a crash.
Whyte avoided any impact as Netherland's Twan van Gendt went to ground but lost all of his speed in doing so, and finished seventh in his heat.
It was a disappointing end to a promising day for Whyte - who got off to the perfect start by winning his round one heat in style.
Whyte was then paired with Connor Fields in the 1/8 finals - and although the American raced away to take the win, Whyte kept in touch to finish third, before bowing out in the quarter-finals.
The round was won in his home country by Argentina's Exequiel Torres, closely followed by compatriot Gonzalo Molina in second with France's Sylvain Andre third.