Look to the Level 1 Mountain Bike Leader Award for a firm foundation on which to build a life in the outdoors.
We caught up with two mountain bike leaders who started their career through training for the award with PGL, a provider of school activity courses and summer camps.
Becoming champions of mountain biking
If you dream of working in the outdoors, riding a bike for a living and inspiring people to lead a healthy and adventurous life, a British Cycling Level 1 Mountain Bike Leader course is the perfect first step. The qualification offers clear progression and further development, with accessible employment opportunities in the outdoor sector.
Liam and Matt have followed exactly this path, having been supported through the Level 1 Award - amongst other outdoor activity awards - at their respective centres. With a year or more of Level 1 leading experience under their belts, each is now on a pathway that has seen them become champions of mountain biking and move onto PGL's Advanced Instructor Programme. This consists of training run within PGL and national governing body awards like the British Cycling Level 2 Mountain Bike Leadership Award, that provide opportunities for staff to further their skills through involvement in specific activities.
Experience outside your comfort zone
The mountain biking programme offers months of in-depth training and is jointly run by PGL's senior instructors and Cyclewise, one of British Cycling's mountain bike leadership award partners. Taking Liam and Matt beyond the comfort and familiarity of their centres, it included tackling the barren West Pennine Moors and Yorkshire Dales in February – where we met them on a wild and windy day as they were preparing for their Level 2 assessment. The experience provided a perfect springboard for obtaining their Mountain Bike Leader Award.
The leaders came to PGL from very different backgrounds. Matt Heat, an instructor at Dalguise PGL, applied straight out of school:
"I was desperate to get away [from home] as soon as I turned 18; I knew college wasn't for me. All my mates went to uni and I was like, 'I don't know if I can do that'. I headed straight to PGL. I'd worked at a paintball place, loved the adrenaline and knew I wanted to work outdoors. I get the same buzz out of mountain biking, so it was an easy transition."
Liam Ross was a teacher who felt he needed a change of direction:
"I was a high school teacher, but found that I wasn't getting the right life-work balance so I had a now-or-never choice. A Google search on 'outdoors and education' led me to find PGL. Initially I went into field studies at Osmington Bay, then realised that there was some mountain biking, and I was like wow, yes I'd like to do some of that!"
For Liam it has genuinely been a life changing experience and, although a challenge, it has been extremely rewarding.
"I got my Level 1 straight away, and wanted to head straight onto the Level 2 but needed to do a year, so I committed through last year. It's a whole new ball game. Now I feel like I'm regaining my youth again - I'm really enjoying it!"
Choosing a path
Experiences like riding the West Pennine Moors as part of the programme mean they both take valuable skills back to their centres to inspire young participants and colleagues alike. With improved skills and knowledge, enthusiasm for their own riding and development has increased – which of course rubs off on others and benefits their working roles. Both can now see a clear future working in the outdoors sector.
Matt envisages taking his qualification abroad:
"For my mountain biking, I'd really like to head somewhere warmer than Scotland! Hopefully this year a trip abroad; the Alps is definitely on the list to push the boat out, discover more places, get to know more people."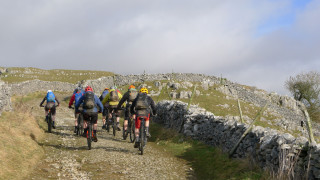 Liam is keen to return to his centre and expand the scope of the mountain biking on offer:
"I'd like to take on more responsibility. The whole bike arrangement last year was a well-oiled machine and I'd like to replicate that – and [with my Level 2 Award] head out further afield than I could last year with my Level 1."
As Liam, a teacher looking for a life and career change, and Matt, a school leaver with a desire to work outdoors, have shown, a Level 1 Mountain Bike Leader Award was the gateway into a long term career in the outdoors. So whether you're interested in volunteering at a local youth group, self-employment as a mountain bike leader or working for an activity provider such as PGL, the British Cycling leadership awards can open those doors for you.
Read the story of another Level 2 PGL instructor, Frankie Berks
Great for your centre, staff and visitors
For outdoor activity centres, becoming a Level 1 Accredited Centre, means that you'll be able to offer your staff and volunteers a Level 1 qualification and a genuine route into a career in the outdoor sector. You can also be confident that participants will receive a fun, safe and enjoyable mountain biking experience that makes the most of the local environment.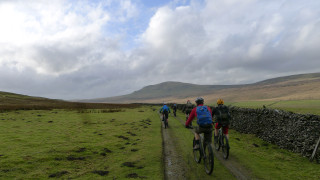 British Cycling's partnership with PGL, a leading provider of activity courses and holidays, has seen eight PGL centres obtain accreditation. This has led to hundreds of instructors having the opportunity to undertake Level 1 MTB Leadership training, enhancing both the centres they work at and their own career development.
Increasingly centres and organisations are obtaining their accreditation, ranging from city locations such as the Tower Hamlets Urban Adventure Base and the HSBC UK National Cycling Centre in Manchester through to shops and trail centres such as Beics Brenin and Coed y Brenin.
Find out more about Outdoor Centre Accreditation and the Level 1 Mountain Bike Leader Award