Welsh cyclists Ella Barnwell and Elynor Backstedt have been selected to represent Team GB at the upcoming European Youth Olympic Festival in Győr in July.
The British Olympic Association today announced a squad of 50 athletes that will compete across six sports. The Festival will see around 3,000 athletes from 50 European nations come together to compete across 10 Olympic sports from 23rd-29th July.
Ella Barnwell, Towy Racing Cycle Club and Elynor Backstedt, Team Backstedt/Hotchillee will join four other British cyclists in Hungary. Both riders represented Wales at the 2016 School Games. Elynor Backstedt recently won the Youth Tour of Scotland, whilst Ella Barnwell won the Screentek International North West Youth Tour in May.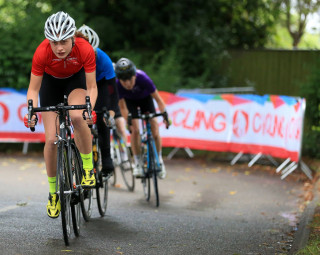 Team GB's athletes, who will all be aged 14-17 at the event, will compete in six of those; canoe sprint (six athletes), cycling (six), gymnastics (six), judo (12), swimming (16) and tennis (four). Athletics, basketball, handball and volleyball complete the sporting programme in Hungary.
With many athletes already working on the road to the Tokyo 2020 Olympic Games, EYOFs play an important role in the development of young British athletes, helping them along the route to achieving their own Olympic dreams.
Team GB has a rich history of medal success at EYOFs, having won at least 20 medals in each of the previous 13 summer Festivals.
They provide crucial multi-sport event experience for young athletes, with over 50 athletes graduating from a summer EYOF with Team GB going on to compete at the Beijing 2008, London 2012 or Rio 2016 Olympic Games. The likes of Becky Adlington, Pete Kennaugh, Sally Conway and Nile Wilson all had their first taste of an Olympic-style event at an EYOF before winning an Olympic medal at senior level.
Paul Ford, Team GB Chef de Mission at Győr 2017 said: "With just under a month to go until the start for Győr 2017 European Youth Olympic Festival, it's great to officially welcome these 50 young athletes to Team GB. There's a fantastic mix of sports in our delegation this year and some real pedigree among the athletes selected.
"Returning home from Győr with a haul of medals will be a great achievement for the team but the experience these athletes will get being part of a multi-sport event for the first time will be important and invaluable learning as they look to progress their sporting careers. We have seen a number of our senior Olympians go on to do great things after being selected for an EYOF and potentially some of the next generation of Team GB stars will be with us in Hungary."
Team GB Cycling
Alfie George 16, from Abernyte, Scotland
Amelia Sharpe, 15, from Douglas, Isle of Man
Ella Barnwell, 16, from Carmarthen, Wales
Elynor Backstedt, 15 from Pontyclun, Wales
Lewis Askey, 16, from Cannock, Staffordshire
Sam Watson, 15, from Leeds, West Yorkshire