JLT Condor were crowned Tour Series champion for the second successive year, defending their title to take their fourth Tour Series crown under the guidance of John Herety.
Earlier Rebecca Durrell had crowned a fantastic Matrix Fitness Grand Prix Series for herself and her Drops team, taking the individual win in Stevenage to seal the both the team's and rider's titles after three weeks of competition.
Swift with second win
Madison Genesis' Connor Swift had escaped in the final handful of laps, as his Madison Genesis team set him up perfectly for the win, allowing him to go clear and then hold off the chasing peloton for the honours on the night. Swift also secured the Brother Fastest Lap as he powered to victory.
Once again though it was JLT Condor riders at the forefront, with Graham Briggs and double-round winner Brenton Jones following Von Hoff home for third and fourth.
Madison Genesis though were the round 10 winners, pipping JLT Condor for the final win of 2017 and reducing their deficit in the overall standings to two-points.
Behind BIKE Channel Canyon pipped ONE Pro Cycling by just one-point to the third spot, with Team Raleigh GAC in fifth, ahead of Metaltek Kuota and Morvelo Basso.
Sebastian Mora finished The Tour Series with a 30-point margin over James Lowsely-Williams in the Wiggle Points Jersey standings, with Jones of JLT Condor a further four points back.
Drops crowned Matrix Fitness Grand Prix Series champions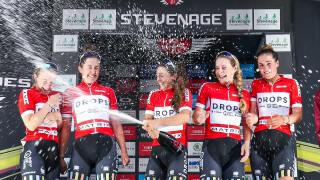 Durrell outsprinted teammate Lucy Shaw and Olympic Champion Katie Archibald at the end of the 32-lap race around the Old Town in Stevenage, taking the Brother Fastest Lap along the way.
The race had stayed together throughout despite repeated attacks with the final round coming down to a 33-rider bunch sprint.
Durrell powered clear, taking her first ever series victory to round out a memorable campaign, that saw her ride in all eight events, helping Drops to their first ever Matrix Fitness Grand Prix Series title.
"I'm really, really chuffed. The pressure was always going to be on for the team in the last round, even if it's just from within ourselves," said Durrell speaking afterwards.
"I knew I'd already won the individual overall before the start of tonight's race but I'd deliberately not said anything about that as that would have been even more pressure. So now we're just all relieved.
"Last year didn't finish as we'd hoped as we missed out on the team win in just the last few hundred yards.
"We did talk about that at bit in preparing for this race and we were all very honest in recognising mistakes we made and that perhaps last year we went into the race a bit too confident and so perhaps took some unnecessarily risks. So this year we thought we'd ease it back a little bit, play a bit of a safe game but still be up there at the front of the race, getting in the mix of things. But, it worked!"
Highlights of the Stevenage round of The Tour Series will be shown on ITV4 at 10pm on Tuesday 30 May and available on demand via the ITV Hub. The action will also be shown on Eurosport.