An action packed round two of the Supertrax Battle of Britain delivered fine racing in Sheffield and Horspath, meanwhile Ipswich hosted an exceptionally close round in the Supertrax Women's League.
South East and East are now the only team with a 100% record in the elite men's class. A powerful performance led by Lewis Osborne, Josh Brooke and Adam Peck, the latter delivering an expert display in team racing, meant they took home the league points against South West and Wales in Oxfordshire.
A strong South West and Wales team made a fight of the match, but in the end lacked the depth required to stop the South East and East from edging away after the visitors developed a 10 point lead in the first half. The match concluded 89 - 107 and means South East and East take maximum points from two tricky opening away fixtures for Bryan Harvey's men.
Josh Brooke and Lewis Osborne were the top scorers for the victors, while Zac Payne and Maciej Ganczarek returned big points scores for the home side.
Proud South West and Wales elite junior manager, Zac Payne, hailed his young side's team performance on their way to victory in the elite junior class. Another close match between two evenly matches teams finished with a home win by 75-63.
All six South West and Wales riders contributed heavily, with Poole duo Fraser Garnett and Callum Smith the top scorers. For the away side, Ben Harvey and Lewis Brinkoff also notched up top scores.
Meanwhile in Sheffield, the Midlands were in fine form across both senior and junior categories. The elite men firmly put to bed their narrow loss in round one to South East and East.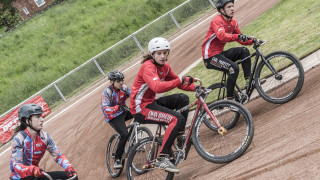 The North and Scotland could only register one race win across the 20 heats in the elite men's class, such was the dominance of the Midlands top end fire power. Paul Heard and Ricki Johnson raced to maximums, Myke Grimes dropped just one point, while also setting a new track record at Cookson Park in heat 20, breaking Paul Heard's own new record from the heat before, and bringing the final score to 89-111.
The home side did well to split the Midlands pairs and fill the mid-places on many occasions. The North and Scotland delivered a spirited performance and injured Damian Zareba would have made a difference for Mike Hack's men, against a team on top form.
The elite junior class was much closer, just one point separated them in the closing stages of the meeting, but the Midlands put the hammer down in the final few heats to race away to a score line that did not reflect how close the match was, ending 63 - 76.
Midlands' Carl Parfitt was denied a maximum after receiving an exclusion after a collision with Ed Morton. Six of the Midlands riders registered a heat win, while Ed Morton and Adam Watson offered the most resistance for the North and Scotland, with Manchester riders, Evans, Preston and Wright all taking heat wins.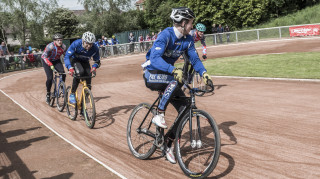 Supertrax Women's League
The Battle of Britain produced some close racing, but none more so than the Women's League in Ipswich, where there were just two points between all three sides in the team match.
Macie Schmidt rode to another maximum for the South West and Wales and received strong back up from Lauren Hookway and Krissy Mines. Ipswich rider Gemma Hill top scored for the N&S/SE&E, while two of the North's young racers Emily Burgess and Niamh Morton also impressed.
Lizzie Rigley continued her good form; top scoring for the Midlands team, while Michelle Whitehead chipped in with some wins.
In the individual events, Lauren Hookway was the winner of the A final, despite running a last in one of her qualifiers. She battled it out with Lizzie Rigley who claimed second, while returning Lauren Jacobs took third ahead of Michelle Whitehead.
Round one winner, Macie Schmidt, was left ruing an opening heat tapes exclusion, which meant she missed out on the A final by a single point. She won the B final to still claim 14 GP points, but has surrendered her early lead to closest rival, Lauren Hookway.
In the intermediate class, Emily Burgess capped off an impressive day by taking her first A final victory. Round one winner, Maddie Saunders secured second place, with team mate Bethany Briggs taking third ahead of Gemma Hill.
It was another high octane weekend of Cycle Speedway action, which has seen the new Supertrax series go from strength to strength.