Emily Nelson led Team Breeze to an emphatic victory in the third round of the Matrix Fitness Grand Prix Series in Northwich.
Winning in a bunch sprint, Nelson was joined in the top six finishers by team mates Ellie Dickinson and Megan Barker; the strong all-round performance from the team moved them up to second in the overall standing behind Drops.
Dickinson won both of the intermediate sprint points of the round and therefore will enter round four leading the sprint competition.
Alice Barnes of Drops took second place behind Nelson, ensuring her team's position at the top of the standings for the the third consecutive round.
The Tour Series
A dominant performance by Madison Genesis on a slick Northwich circuit returned them to the lead of The Tour Series for the first time since they were crowned champions at the end of the 2015 Series.
The Milton Keynes-based team had all five of their riders in the top nine finishers, taking their second team victory on the trot, putting them level on points with JLT Condor and into the lead on countback.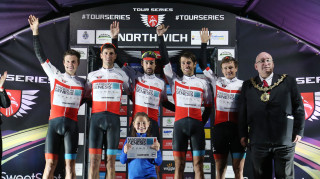 Despite the dominance of their performance though, it was former Movistar Team rider Enrique Sanz who took the individual race win, his first in the Series and the first for Team Raleigh since 2014.
Sanz continued his strong start to his Tour Series career, having taken third and second from the opening events before winning the first ever Northwich race.
With rain sweeping in shortly before the start of the men's race the circuit was soaked resulting in adverse conditions and a number of spills that split the field, in particular affecting leaders JLT Condor and challengers BIKE Channel Canyon, who both lost riders to the tricky conditions.
Sanz's teammate Sebastian Mora held onto the Wiggle Points Jersey despite failing to finish as the result of a crash while Sanz also won the Brother Fastest Lap trophy, once again taken on the final lap of the race.