Round three of the UCI BMX Supercross World Cup Series ended in frustration for Kyle Evans, as he was once again knocked out in the semi-finals.
The Rio Olympian had made superb progress through the rounds, winning all but one of his heats.
Evans will look to break into the final in round four on Sunday, after reaching the semi-finals in last weekend's second world cup round in Papendal.
Beth Shriever had a disappointing finish to her day too, crashing in the second straight of the Zolder circuit, as she fought to get back into the top four in her semi-final.
Shriever had enjoyed wins in every round up until that point, her blistering starts giving her the space to pick her lines and out-pace her opponents; she will be back for more on Sunday.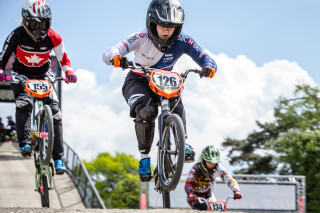 Paddy Sharrock won his opening heat and then began a somewhat turbulent route through the rounds, often relying on his turn of speed in the closing stages to squeeze through.
He had an excellent ride in the latter half of his 1/8 final. The young rider had been pushed down to seventh by the third straight, but came back to finish fourth to progress to the quarter finals.
Unfortunately, a crash just in front of Sharrock meant that he was impeded and could not reach the semi-finals; he will be hoping to go at least one better on Sunday.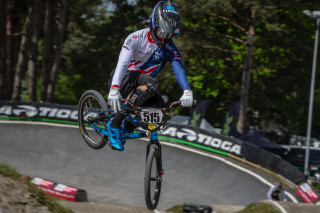 After a strong start to his day with two wins and a second place finish, Quillan Isidore crashed hard in the 1/8 finals and had to be stretchered from the track, ending his weekend's racing.
Tre Whyte also left the competition in the 1/8 stages, after an good start, the British rider crashed off the first berm, and could only roll through in eighth place, unhurt and ready to ride again on Sunday.
Kye Whyte was just edged out in heat 3 of the 1/32 finals, missing a fourth place finish by only half a bike length, after returning from a wrist injury sustained in round one of the series.
Blaine Ridge Davis did not manage to progress from her heat in the opening round and unfortunately could not find the speed in the Last Chance round to make the 1/8 finals.
Results