The HSBC UK | Cycle Speedway Elite Grand Prix Series got underway on Saturday at the East Park circuit in Wolverhampton.
British champion Ben Mould (Newport CSC) made a flying start to the season to lead the overall standings on 25 points after round one.
Rain had made the going slippery at the East Park circuit, which put paid to British team captain Paul Heard's hopes of a high-scoring day when he lost control of his bike in the opening heat, after establishing a clear lead.
Myke Grimes, Matt Smith and Ben Mould took wins in the early heats, with the latter also coming out on top when he, Heard and Grimes lined up in heat five.
Charlie Rumbold too made a promising start to his season, despite having missed a good deal of training due to injury.
In heat 10 Mould dropped his first points of the afternoon, falling to third behind Josh Brooke and Matt Smith, but the British champion soon bounced back in heat 16, taking his fourth win of the afternoon and the round one victory.
With Lewis Osborne's performance securing him second place overall, Grimes was left to contest third with Rumbold, a race which Grimes duly won from the favoured inside grids.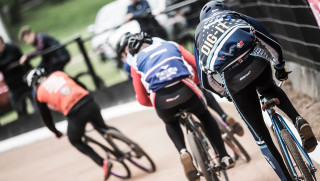 Elite Juniors
The first round of races saw wins for Wednesfield's Carl Parfitt and Brandon Whetton, who beat Ed Morton in a two-rider race, and home rider Jake White, who made an impressive return after time out recovering from a broken arm.
Parfitt and Whetton took further wins, although the latter had to work hard for his heat six win over the lively Fraser Garnett.
Morton took an important win in heat eight from gate four and then took full advantage in heat 10 of gate one to end Carl Parfitt's unbeaten run with Fraser Garnett in third.
A heat 15 win for Parfitt over Whetton put him on 15 points after four races, with Whetton and Morton both a point behind.
Wins for both riders in their final heats meant Parfitt needed a first place finish in the final race to win the round, but he thwarted by Pierce Bacon who took the race from the start from gate one.
Parfitt finished behind Bacon in second place, making it a three-way tie for first spot and a run off to decide the victor.
From the start, Parfitt and Whetton fought their way round the opening two bends, but were too focussed on their battle to prevent Morton slipping through a gap and leaving too much distance to be chased down.
Round two of the new series will return at Swindon on 10 June.
Results
Elite Men
Ben Mould 25
Lewis Osborne 20
Myke Grimes 18
Charlie Rumbold 16
Matt Smith 14
Dean Hook 13
Paul Heard 11.5
Chris Timms 11.5
Josh Brooke 9
Steve Harris 8
Scott Millward 7
Adam Bennett 6
Ashley Hill 3.5
Josh Hill 3.5
Brandon Whetton 1.5
Charlie Barnett 1.5

Elite Junior
Ed Morton 25
Brandon Whetton 20
Carl Parfitt 18
Pierce Bacon 16
Fraser Garnett 14
Jake White 13
Devon Campbell 12
Haydn Rowley 11
Max Evans 8.5
Michael Preston 8.5
Louis Wright 7
Adam Cooper 6
Josh Whetton 4
Macie Schmidt 3