Two new inclusive cycling schemes have got off to a great start in March, with a series of taster sessions being well attended at Eirias Park, Conwy in partnership with Disability Sport Conwy.
Handcycling
Disability Sport Conwy and Welsh Cycling held handcycling taster sessions on Friday 17th and Sunday 19th March at Eirias Park. All handcycles were in use as participants took advantage of the new opportunity.
Handcycling is both a sport and a recreational activity that is becoming more and more popular in the UK. The handcycles are powered by the rider's arms as they lie or sit in a recumbent position, making it particularly suitable to physically impaired disabled people with impairments such as spinal injuries, spina bifida, cerebral palsy and amputations.
Mark Richards, Conwy's Disability Sport Officer, said "It's brilliant to offer another much needed outlet to local disabled people. We've been able to recruit a fantastic volunteer to lead on the project and the interest from other volunteers has already been very encouraging. The plan is to develop a sustainable club that offers regular handcycling opportunities to help people get and stay active and leading healthier lives."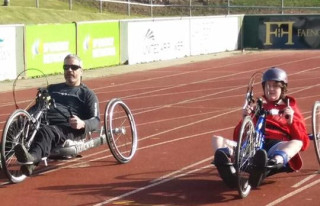 Adapted Cycling
Sport Conwy, Conwy's voluntary Sport's Council, were also able to host a taster session with adapted cycles after their funding application to the Intermediate Care Fund was approved in March. The grant, which is supported by The North Wales Social Care & Wellbeing Services Improvement Collaborative, Betsi Cadwaladr University Health Board and Welsh Government has allowed specialist cycling equipment to be purchased that can assist people with learning disabilities and complex needs.
The Sunday morning session saw over 30 people attend in total as parents, carers and family members turned out in the sunshine to support the participants get involved. The adapted cycles included tricycles, quad cycles and side by side cycles amongst others and were provided by Warrington based charity Wheels for All.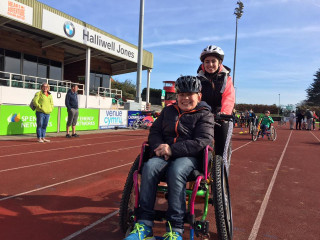 Feedback from the session was extremely positive and the adapted cycles allowed those people who can't use conventional bikes the opportunity to enjoy cycling in a fun, safe environment. Comments included "Thank you, the kids had a fabulous time" and "Fantastic day had. Bethan loved it and can't wait to go back. Thank you for all your help, time and patience".
Tim Matthews, Welsh Cycling's Young Rider Development Officer, who supported the event added "Inclusive cycling is a key part of our development strategy within Wales. Welsh Cycling Development team are working hard at increasing participation in all aspects of the community, so seeing the success of these sessions, we are looking forward to helping set up an Inclusive Cycling Club in Conwy".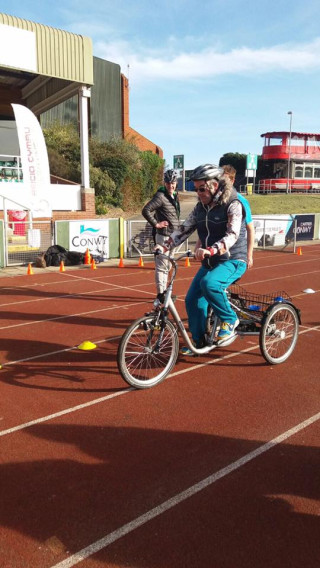 For more information on future events, contact Mark Richards or visit the Disability Sport Conwy Facebook page