Wales Junior Programme riders began the British Cycling Junior Road Series this month. The Series is key to rider development as they learn and progress through the year.
The opening round of the Junior Road Series saw Tom Pidcock win at the Cadence Junior Road Race, with Wales' Oscar Mingay in second. The first races of the year are an opportunity for riders to see where they are and how they can improve.
At the Screentek International Junior Tour of the Mendips, the riders fought over two days in three stages, which saw Oscar Mingay win overall and Sam Tillett secured the Sprint jersey.
Rider View
Oscar Mingay is competing in his first year as a junior rider with Giant Halo Films, and rode for Wales for the first two rounds of the Series: "The Betty Pharoah race earlier this year I thought was a lot harder than our first junior races. There, you are always trying to get in to breaks with the older riders in the junior races there is a lot more anticipation and watching each other.
I have learnt when to use your energy to be most effective, and don't try to get into every move. You only have so many match sticks and you need to know when to use them. You shouldn't be intimidated by the older more experienced riders, and they should do their fair share of work as well."
James Tillett, and brother Sam, are in their second year as a junior riders, and also ride for Giant Halo Films: "In races like the Betty Pharoah, you look at teams like OnePro Cycling and how they work together and you can use that experience in our own races. In the Junior Tour of the Mendips, Oscar was leading so we worked together as a team to chase down the breaks and ended up with two jerseys in the end. You need to be able to adapt, and stay calm when under pressure."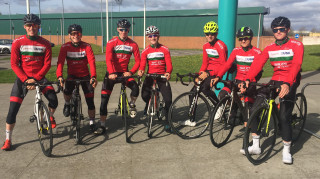 Joe Beckingsale experienced his first Junior Road Series event with Welsh Cycling, after competing in the HSBC UK National Cross Country series at the beginning of April. "This was my first Junior Road Series event. The Betty Pharoah helped me prepare for the event. Working as a team was new for me, as mountain biking your pretty much on your own."
Josh Price rode with junior team Backstedt Hot Chillee, along with Dan Coombe and Matt Burke. "You have to race smart, and not hard. At both events, we learnt to race as a team and to help each other out. Communication is important, and we can do more of that in a race, as well as preparing in training before it."
The Wales Junior Programme riders are now on a four-day camp in Newport before the next block of racing begins.