Welsh Cycling is pleased to have achieved the Intermediate Level of the Equality Standard for Sport.
Welsh Cycling is increasing opportunities for a diverse range of people to get involved in cycling, from encouraging women to participate through SheCycles Wales and HSBC UK Breeze to identifying young people through the Sprint Academy Talent ID programme.
Georgina Harper, National Development Manager and equality lead in Welsh Cycling said: "As the equality lead for Welsh Cycling, it's been great to see the change in diversity across our departments and programmes.
There are still many challenges ahead, but the whole team are fully behind the process, right up to the board and senior management. Working with a number of external partner organisations we will continue to break down the barriers associated with getting involved in cycling."
The Equality Standard for Sport is a framework owned by the five Sports Councils, and acts as a framework and vehicle for widening access and increasing participation and involvement in sport by under-represented groups and individuals.
The SheCycles Wales programme has encouraged more women and girls to cycle, and has seen the establishment of cycling hubs across Wales. Here's the story of the bike hub at Coed y Brenin.
To achieve the Intermediate Level of the Equality Standard, Welsh Cycling has made significant progress in a number of areas. These have included:
Women's participation has seen large increases, with a 44% increase in female membership of British Cycling over the last 3 years.
Welsh Cycling has achieved Bronze level of Insport, and integrated Ribbon level of Insport into the HSBC UK Go-Ride Club accreditation programme in Wales.
Equality is embedded into Welsh Cycling's strategy and values, with a good level of awareness between staff and board.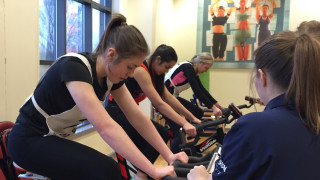 The Sprint Academy talent identification programme has provided an innovative approach to bringing people from different backgrounds into cycling at a talent development level. Through autumn 2016, 3,150 young people were tested in schools across Wales with 42% of the participants being females.
Welsh Cycling has successfully worked with partners to increase opportunities for people with disabilities to enjoy cycling. Most recently, working with Antur Waunfawr to deliver a Sgiliau Antur adaptive bike session in Caernarfon.
Anne Adams-King, Chief Executive Officer at Welsh Cycling said: "Welsh Cycling is committed to making cycling in Wales more accessible to all. Cycling is traditionally seen as a sport dominated by white males, but we are working to change that demographic.
We have made progress and welcomed more women to the sport and created opportunities for people with disabilities to participate. We recognise our work is not done, and by continuing to work with our partners such as Disability Sport Wales, LGB&T Sport Cymru and Street Games we want to inspire more people in Wales to cycle."
If you want to get involved in cycling, go to britishcycling.org.uk/wales/getinvolved