As we celebrate International Women's Day, let's meet the women who will be taking on the 2017 Velothon Wales, with the support of HSBC UK Breeze and Welsh Cycling.
Earlier this year, we offered 15 women the opportunity to take on the challenge of Velothon Wales. The 140km cycle sportive taking place on closed roads, where riders will tackle the Tumble and admire the spectacular Welsh scenery.
To be able to get from 0km – 140km in the next few months, our Team Breeze riders will be supported by Breeze Champions and Welsh Cycling coaches with regular rides and coaching sessions in their regions. As well as on the bike support, Team Breeze will receive tips and advice from our women and girls officers, and remove the barriers to confidently ride to 140km.
So who will be taking on the challenge this summer?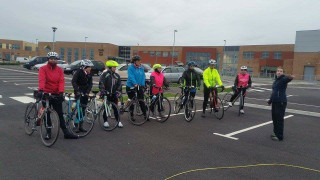 Alex George
Alex is an Assistant Head Teacher at a Special Educational Needs School in Milford Haven. She'll be joined in our West Wales region by Sue Wright, Lorraine Langford and Sam Gregory. The group will be led locally by Breeze Champion Nia Richards.
Alex will be looking to raise funds for her local Cancer Day Unit that opened earlier this year. "Breeze has really helped me to find my love of cycling again. Several ladies from my club trained as Breeze champions, and I supported their rides. As time progressed, I enjoyed riding with ladies I would not have met unless it was for Breeze."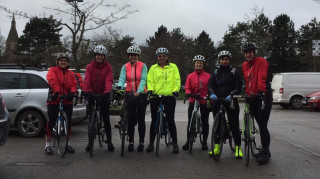 Marilea Schofield
Marilea lives in Wrexham, and although retired is ready to take on the challenge of Velothon Wales. She'll be joined in north Wales by Marta Leckie, Nicola Garcia, Lesley Hill, Christine Williams and Caroline Dawson all led by local Breeze Champion Vicky Hinstridge.
Marilea has two grown up sons, and is determined to reach the finish line in Cardiff and do herself proud. "I was fed up with cycling by myself; it was lonely and I lacked motivation. My first Breeze ride was 18miles, and easier than I thought! I met some lovely women and talked all the way round. I fell in love with my bike again!
"Now that I am retired, I don't want to be perceived as an old shrinking violet; I want to rise to the challenge!"
Jane Voyle
Jane Voyle is teacher in Rhondda Cynon Taff, and will be training in south Wales alongside Lynette Hood, Charlotte Mead and Martine James and will be led by one of our youngest Breeze Champions in Wales, 22 year-old Lusi Lawler.
Jane is keen to improve as a cyclist, but feels cycling is perceived as a man's sport – we're about to change that! "I would never enter a 140km sportive on my own, but feel more confident with the support of Breeze. Uphill, I'm fine as I love a challenge, but I am useless downhill! I loved Tour de Celeb, and am up for the challenge of Velothon Wales."
With training already underway, and the first skills sessions taking place with Welsh Cycling we are looking forward to following Team Breeze, as they break down barriers and remove stereotypes preparing for Velothon Wales on Sunday 9 July.
If you are inspired to take on the Velothon Wales, there is still time to enter here.
To find your nearest Breeze ride, search with your postcode at breezebikerides.com