Chris Froome has won his third Tour de France title, with the support of Welsh cyclists Geraint Thomas and Luke Rowe over three weeks of racing.
Froome secured his third Tour de France victory over the weekend, the first British Rider to claim three titles. He was dominant throughout the Tour, and the team worked together to cross the line in Paris with the yellow jersey intact.
2016 Tour de France stage-by-stage
Geraint Thomas played an important role in supporting Chris Froome over the 21 stages of the Tour, and hailed his success as 'incredible':
"It's been an incredible few weeks really," he told TeamSky.com "Everyone has been talking about it but the strength of the team has been phenomenal. We had five climbers basically to support Froomey, all of us have led big races individually, and we've all come together.
"It's one thing having strong individuals but it's another thing riding well together and there were no egos, we committed for each other, every day we rode for Froomey and it paid off."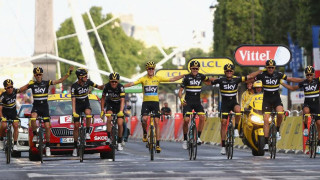 The victory was also overseen by Team Principal and fellow Welshman Sir Dave Brailsford:
"It's a British success story and the team was perfect. I'm proud to be British today. We weren't a cycling nation not so long ago and I think we are now!
"Chris is a phenomenal, talented guy, and the way he's ridden this year has been brilliant, we've had the best team performance we've ever had, we've finished with nine guys - we've done 20 Grand Tours, we've never finished with nine guys!
"It's the best team performance we've put together and Chris was brilliant, so overall it's been a great three weeks. We'll come back and do it again next year!"
Geraint Thomas and Chris Froome will ride together at the Rio 2016 Olympics in August, where they will be looking for a British medal on the road.
If you are inspired by the Tour de France success, join our Go-Ride Summer of Cycling with activities across Wales throughout August.