The Great Britain Cycling Team were out on the Montichiari track with medals on their minds as they started day four of the UEC Track Junior and Under-23 European Championships.
Ethan Hayter finished off two fantastic days of racing in second place in the junior men's omnium points race, bagging himself the overall silver medal in the process.
Hayter maintained his overnight position of second in the junior men's omnium standings after his performance in the 1km time trial.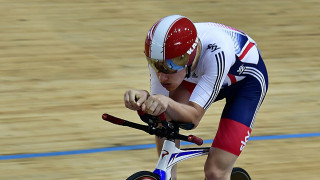 His flying lap was the fifth fastest, while overall event leader Syzmon Krawczyk recorded the second fastest time of the 21 omnium riders.
The final points race saw Hayter briefly lose his podium place, so the Academy rider battled for the intermediate sprint points to ensure he finished with a medal. The dominant Polish rider won the final event with 203 points to Hayter's 192.
"I knew I needed a lap, I tried a few times, harder and harder but I didn't manage to get away. I went for the last few sprints to secure my podium," said Hayter.
"I was happy, I got the national record in the individual pursuit so I'm looking forward to riding that at worlds next week."
Both Sophie Capewell and Georgia Hilleard contested the first medal race of the day - the junior women's 500m time trial.
Capewell's effort of 35.873 seconds was good enough to win her the bronze medal, behind France's Mathilde Gros and the Netherlands' Hetty Van De Wouw in gold and silver.
"I'm still feeling the after effects of exams so it's been a bit of a tough week," said Capewell.
So happy, finally on the up, and with a decent first half too! Onto next week! https://t.co/GbHs7HqGFJ

— Sophie Capewell (@SophieECapewell) July 15, 2016
"I feel like I'm still warming into it. It's nice to get out and get a result on my own."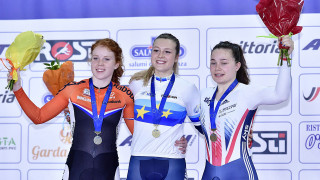 Hilleard rode well and held the third medal spot for some time, finishing in seventh overall, only 2.148 seconds shy of the top spot.
Scratch race
Mark Stewart won a silver medal in the under-23 men's scratch race behind Michal Rzeznicki of Poland.
Stewart has good form in the scratch race, having won an elite world cup event in New Zealand already this season.
"I like racing these things from the front and that's what I did," said Stewart.
"You go out to win, you try to win and you give it all and he outsprinted me – I'm quite black and white about it, I'm happy to get second, obviously I wanted to win but today I didn't!"
Danni Khan picked up another bronze medal for the Great Britain Cycling Team in the Under-23 women's scratch race.
"It was great, it's nice to be back in the mix," said Khan.
"Obviously I wanted it to be gold but nevertheless I'm really pleased with bronze and it was a great learning experience."

Men's sprints
Alex Joliffe reached the bronze medal race of the junior men's sprint, after narrowly losing out in his semi-final to Czech rider Cechman Martin.
Joliffe faced Ayrton de Pauw in the bronze medal race, losing 2-0 to the Belgian rider to finish fourth overall.
Hamish Turnbull reached the quarter-finals of the junior men's sprint, eventually finishing the competition in eleventh place overall.
Gallery
After his bronze medal in the under-23 men's 1km time trial yesterday, Joe Truman progressed to the quarter finals of the under-23 men's sprint event, where he faced Frenchman Melvin Landerneau.
The French rider won the contest 2-0 but Truman rode to fifth position overall by winning the fifth to eighth place race.
Fellow under-23 sprinter Jack Carlin came second to Lithuania's Svajnas Jonauskas in the 1/8 repechages and did not progress.
As Hayter was finishing his omnium, Jessica Roberts in the junior women and Chris Latham in the under-23 men were starting theirs.
Roberts finishes the first day in fourth place while Latham sits in second place ahead of the final three events tomorrow.
Results
Follow our #RiderRoute blog from three of our junior riders
here
.