Great Britain's Evie Richards took her third top-ten finish of the UCI Mountain Bike World Cup season with sixth place in Lenzerheide.

The 19-year-old started strongly having finished second in her last two world cup outings, and was second after two laps in Switzerland.
But she then faded and fell back, eventually crossing the line four minutes and 47 seconds behind Switzerland's Sina Frei.
Isla Short finished an excellent 11th with Bethany Crumpton 15th.
Ferguson builds to Rio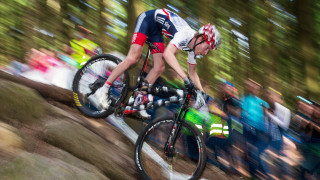 Rio Olympics bound Grant Ferguson continued his preparations with a solid ride for 28th place in the elite men's race. The Scot, in his first season at the level, was gridded 41st but moved through the field over the opening three laps to occupy a top-20 place.
By the end of lap four though, he had moved down to 30th, battling for the remaining four laps to move up two more places.
The Superior Brentjens Mountain Bike Racing Team rider finished in 1:33:05, as world champion Nino Schurter took a popular win in 1:27:26 at his home world cup.
Elite women
Britain's Annie Last, riding for Novus OMX Pro Team, was 38th as Swedish under-23 world champion Jenny Rissveds won in 1:29:53.
Kerry MacPhee and Maxine Philby were both withdrawn on the 80% rule - which occurs when a rider falls behind the leader by 80% of the leader's first lap time.
Under-23 men
In the under-23 men's event, Senior Academy rider Iain Paton was 31st after seven laps of the course.
Gridded 39th, Paton crossed the line in 1:24:09, eight minutes and six seconds behind French winner Titouan Carod.
Mark McGuire was pulled out of the race on the sixth lap due to the 80% rule.
Results