The last twelve months have gone pretty well for Evie Richards.
"Yeah, I've had a great year!
"Some of them have been real hard to get the results that I have and I've been really pleased with the races I've done in the UK as I've gone into some of them quite tired.
An incredible 2016 for @eviee_alicee so far - next up, MTB World Championships! #XCOWorlds https://t.co/Bn96iMFC3Z https://t.co/Bi5susoZfO

— British Cycling (@BritishCycling) June 29, 2016
"I'm really pleased and I'm pretty lucky that I've got the chances to race and get the results that I have so I feel really pleased to get them."
The 19-year-old from Malvern has every reason to feel proud of herself.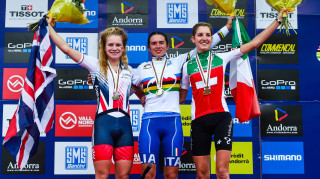 Richards announced herself on the world stage with a stunning junior women's silver medal at the UCI Mountain Bike World Championships in Andorra last September.
As fellow mountain bikers hung up their bikes for the winter, Richards carried on her love of two wheels on mud, turning to cyclo-cross – where she made history.
She became the first ever women's under-23 British cyclo-cross champion in January – and added rainbow stripes just two weeks later as she conquered the course in Belgium to become the inaugural under-23 world cyclo-cross champion.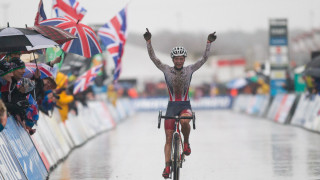 A brilliant achievement, made even more impressive by the fact it was her first ever overseas cyclo-cross event.
The multi-talented Richards then turned to the road, picking up tenth place in the Tour de Yorkshire, before returning to mountain bike trails – being unbeaten in the British Cycling MTB Cross-country Series and earning back-to-back under-23 silver medals at the UCI Mountain Bike World Cup.
It's made for a pretty busy year – but the teenager says she wouldn't have it any other way, despite the challenges.
"It's quite hard especially because now I've found out I do really like cross as well so I think I like them all!
"It is hard to balance them but you just have to do a bit of both and make sure they all complement each other in the right way."
Richards heads to the Czech Republic as one of the favourites for the UCI Mountain Bike World Championships under-23 cross-country title – but says she's not putting that much pressure on herself.
"I wouldn't say I'm the most confident person.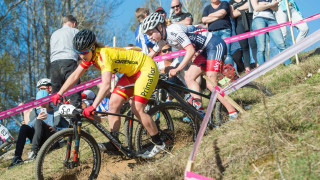 "I try not to look at the people in the races and I just try and race my own race really but I wouldn't say I'm the most confident. I know I've put in a lot of work so hopefully I'll get the result I want."
So could a historical second world title await for Richards – and a pair of rainbow jerseys?
"It would be amazing! I think it would probably be a long reach but yeah, I'll always try my best, and if that's the result to get the jersey, that's it.
"It will be tough. There are some girls that have been racing up in elite this year so they'll be stepping back down to race me in the worlds.
"It will be a really hard race but I'm really excited and I'm ready to smash it."