Despite its name, the team sprint is not a conventional cycling sprint event.
About
Relatively new in the world of Olympic cycling, the event is a multi-person team time trial, with the men's race featuring three riders per team over three laps of the velodrome and the women's race being a two-woman event over two laps.
Format
Nine nations qualify for both the men's and women's team sprint, and those teams will all take to the track individually to set a qualifying time.
The top eight teams will qualify for the first round, where they will be drawn against each other based upon seeding (ie, first against eighth, second versus seventh etc.). In this round, both teams take to the track at the same time, starting on opposite sides of the velodrome, racing against both each other, and the clock.
The winners of the four heats advance to the medal round, with the two fastest winners competing in the gold-medal final and the two slower winners racing for bronze.
The first across the line in the final takes the spoils.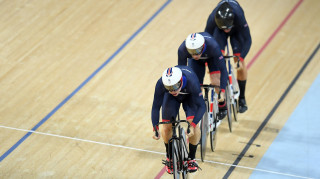 Venue
Organisers of the 2020 Olympics and Paralympics in Tokyo scrapped plans to build a purpose-built, 5,000 seat velodrome for the Games in Tokyo Bay as part of cost-cutting measures. Track cycling will now be held at the Izu Velodrome, 120km to the south-west of Tokyo.
The Izu Velodrome has a 250m Siberian Spruce wooden track with 42 degree banking and opened in 2011 as the first indoor cycling track in the country. The venue currently has a 4,300 seat capacity.
When
Track cycling at the 2020 Olympic Games in Tokyo is currently scheduled to take place from Thursday 30 July until Tuesday 4 August.
With Tokyo eight hours ahead of British Summer Time, it is believed that racing will take place at around 2am-3.30am (Saturday, Sunday and Tuesday, early sessions) and 8.30am-11am (all days, evening sessions) for UK audiences.
Facts
The team sprint is one of track cycling's signature events – but it's also one of the Olympic Games' most recent additions. The first team sprint – then known as Olympic sprint - medals for men were only handed out 16 years ago – with the inaugural event at the Sydney Olympics.
That started Sir Chris Hoy's incredible Olympic story as he, alongside Jason Queally and Craig MacLean, won silver in Australia.
Sir Chris was part of two of Great Britain's team sprint gold medal winning squads alongside Jason Kenny, with the pair reaching the top step of the podium in Beijing in 2008 and London in 2012 alongside Jamie Staff and Philip Hindes respectively.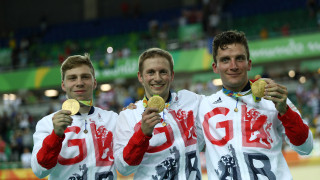 Kenny completed his team sprint hat-trick in Brazil in 2016. Alongside Hindes, who won his second title, and Callum Skinner who was making his Olympic debut, the trio beat New Zealand to win Great Britain's first cycling gold medal at the Rio Olympics.
Rio saw the women's team sprint run for only the second time in Olympic history – an event that Great Britain have not enjoyed.
Victoria Pendleton and Jess Varnish were relegated for an early exchange in London, resulting in them missing out on a medal ride while the team did not qualify for Rio 2016, where the Chinese duo of Gong Jinjie and Zhong Tianshi won gold.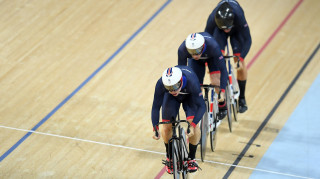 Records
World records
Men – 41.871, Germany (Rene Enders, Robert Forstemann, Joachim Eilers), 5 December 2013, Aguascalientes, Mexico, UCI Track Cycling World Cup.
Women – 31.928, China (Gong Jinjie, Zhong Tianshi), 12 August 2016, Rio de Janeiro, Brazil, Olympic Games.
Olympic records
Men – 42.440, Great Britain (Philip Hindes, Jason Kenny, Callum Skinner), 11 August 2016, Rio de Janeiro, Brazil.
Women – 31.928, China (Gong Jinjie, Zhong Tianshi), 12 August 2016, Rio de Janeiro, Brazil.