BMX is the newest cycling sport in the Olympic programme - and one of the most exciting events that takes place at a Games.
About
BMX supercross mixes pure pace, big jumps, thrills and spills as eight riders take to the track at once in a bid to be the first to cross the line.
Courses begin with a tall start ramp and feature a number of sharp turns and jumps along the way.
Format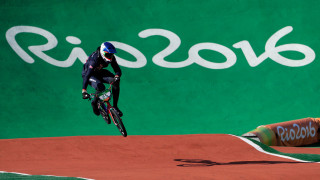 Riders will take to the track in a time trial format initially in order to create seedings for the first round proper. The men begin with the quarter-finals, women at the semi-final stage.
Both the quarter and semi-final rounds feature three runs, with points awarded according to placement. Each heat features eight riders, with the four riders from each heat with the lowest points score after all three runs progressing to the next round.
Just eight riders will make it to the final, to ride off for the Olympic medals.
Venue
Tokyo will play build a brand new venue for BMX in 2020 in the Tokyo Bay part of the city.
The Olympic BMX Course will have a capacity of around 5,000 but the facility is expected to be temporary and won't remain in place after the Games.
When
BMX at the 2020 Olympic Games in Tokyo is currently scheduled to take place from Wednesday 5 August until Friday 7 August. With Tokyo eight hours ahead of British Summer Time, it is believed that racing will take place at around 2am-4.30am for UK audiences.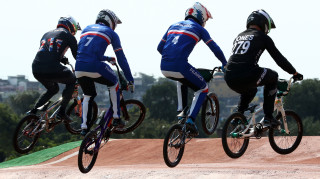 Facts
BMX will be part of the Olympics for just the fourth time in Tokyo - with British riders hoping for better fortune in Japan.
Shanaze Reade was a finalist in both Beijing in 2008 and London, crashing out in China before taking sixth in her home Games.
Similarly, Liam Phillips reached the final in London, only to come unclipped from his pedal after a great start before crashing out. He then crashed out in his first quarter-final run in Brazil and was unable to continue racing, with team-mate Kyle Evans also exiting at the quarter-final stage.
Latvia's Maris Strombergs was the first ever men's Olympic BMX champion after winning the gold in Beijing, before defending his title in London. American Connor Fields won gold in Rio in 2016.
Colombian Mariana Pajon won the title in London and Rio with France's Anne-Caroline Chausson becoming the first women's champion in China.