The sprint is all about power, precision and pace as the world's best sprint cyclists go head-to-head to determine the fastest riders in the world.
About
It's the ultimate game of cat and mouse on two wheels. Tactics play an incredibly important part in the sprint. Riders frequently start slowly, carefully jockeying for position, trying to force their opponents high up on the track in a bid to get them to make the first move.
Cycling fans often get to see one of their favourite skills in the sprint as riders perform a track stand, balancing upright in an attempt to get the other to take the lead. Judges are on hand to ensure any riders performing track stands do not exceed a time limit or rock backwards.
A rider chasing in the final lap has the opportunity to draft their opponent, expending less effort, allowing for a late overtaking manoeuvre to win the race.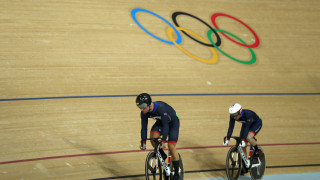 To prevent this, the leading rider may choose to go for a 'long one' - accelerating quickly and suddenly to prevent drafting, but with the risk of running out of speed too quickly.
Olympic format
The event begins with qualification via the 200m flying lap time trial. The 18 fastest qualify for the 1/16 finals, paired up based on their lap times (with the fastest taking on the slowest qualifier, second fastest facing second slowest etc).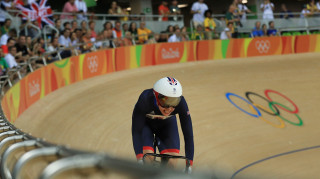 In the preliminary rounds, riders who win their heats progress to the next round, with losers getting a second chance through the sudden-death repechages until just eight remain for the quarter-finals.
From the quarter-final round, each heat is a best-of-three ride. The two semi-final losers go through to the bronze-medal match, while the two semi-final winners ride off for gold.
Venue
Organisers of the 2020 Olympics and Paralympics in Tokyo scrapped plans to build a purpose-built, 5,000 seat velodrome for the Games in Tokyo Bay as part of cost-cutting measures. Track cycling will now be held at the Izu Velodrome, 120km to the south-west of Tokyo.
The Izu Velodrome has a 250m Siberian Spruce wooden track with 42 degree banking and opened in 2011 as the first indoor cycling track in the country. The venue currently has a 4,300 seat capacity.
When
Track cycling at the 2020 Olympic Games in Tokyo is currently scheduled to take place from Thursday 30 July until Tuesday 4 August.
With Tokyo eight hours ahead of British Summer Time, it is believed that racing will take place at around 2am-3.30am (Saturday, Sunday and Tuesday, early sessions) and 8.30am-11am (all days, evening sessions) for UK audiences.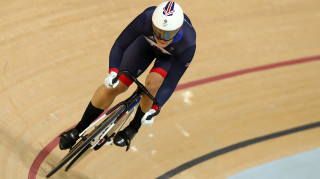 Facts
The men's sprint has been an Olympic discipline ever since the first Games in Athens in 1896. The event has featured at all but two Olympic Games (St. Louis in 1904 and Stockholm in 1912) but no medals were awarded in London in 1908 as judges declared the race void as the time limit was exceeded in the final.
There have been two British men's Olympic champions in the sprint, with Sir Chris Hoy taking gold in Beijing in 2008, beating teammate Jason Kenny in the final. Kenny added to that silver by becoming Olympic champion in London in 2012 and retained his title in Rio in 2016, beating teammate Callum Skinner in the final.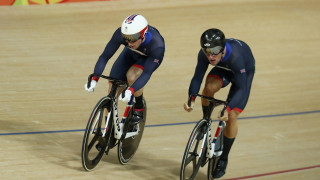 Two other British men have won sprint silver – Horace Johnson in Antwerp in 1920 and Reg Harris in London in 1948. Harry Ryan is Britain's only male sprint bronze medallist, coming third in 1920.
The women's sprint competition has been held since the Seoul Olympics in 1988. Prior to Rio, only one British woman had won Olympic sprint medals – Victoria Pendleton. She became Olympic champion in 2008 in Beijing and won silver in London four years later, with Anna Meares taking the gold.
Becky James and Katy Marchant added their names to the list of British Olympic sprint medallists in 2016, with James winning her second silver medal of the Games, beaten by Germany's Kristina Vogel in the final, and Marchant earning a bronze medal.
Records
World records
Men's flying 200m time trial – 9.347, Francois Pervis (France), 6 December 2013, UCI Track Cycling World Cup, Aguascalientes, Mexico.
Women's flying 200m time trial – 10.384, Kristina Vogel (Germany), 7 December 2013, UCI Track Cycling World Cup, Aguascalientes, Mexico.
Olympic records
Men's flying 200m time trial – 9.551, Jason Kenny (Great Britain), 12 August 2012, Rio de Janeiro, Brazil.
Women's flying 200m time trial – 10.721, Becky James (Great Britain), 14 August 2012, Rio de Janeiro, Brazil.