Sky and British Cycling is launching its biggest summer of cycling today with avid cyclist Denise van Outen and her six-year-old daughter Betsy, who got into their cycling gear ahead of this summer's Sky Ride events.
The mother and daughter duo hit their local park on their bikes to celebrate the launch of Sky Ride, with Betsy now just as keen a cyclist as her mother. The first of the 12 mass participation cycling events, which are free to enter, takes place this weekend in Bradford.
With events announced in 12 city centres across the UK, 2016 will see the one millionth Sky Rider take part, as 100,000 Brits are expected to cycle through city streets as part of Sky Ride this summer.
The public can now pre-register for an event at GoSkyRide.com, to take part in the activities. Sky has once again partnered with Halfords, making it even easier for Brits to get involved, with a team on hand at each event to service bikes free of charge to make sure they're safe for the road.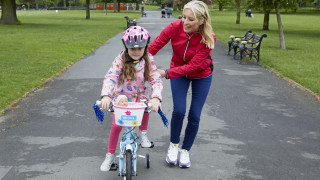 Each Sky Ride event will host The Hub, a dedicated area where cyclists can pick up bespoke bibs to wear during the rides and information on the route will be available. There will also be interactive games and activities for all attendees, along with a photo booth area and big screens showcasing loads of cycling content for all attendees to enjoy.
As part of the family day out, there will also be a 'Style my Sky Ride' tent that will offer custom bib printing, face painting and bike decorating.
For young riders, British Cycling will also be hosting a Go-Ride area, where under 16's can get involved in cycling skills sessions and the Extreme Mountain Bike Show will offer spectators the chance to see exciting cycling tricks in action first hand. Local street food providers will also be serving up delicious menus across the UK.
With Sky Ride being a great day out for all levels of cyclists, from first time riders to professionals, six-time Olympic gold medallist, Sir Chris Hoy, has been involved in Sky Ride since the commencement of the programme in 2009, and will be getting on his bike once again this summer.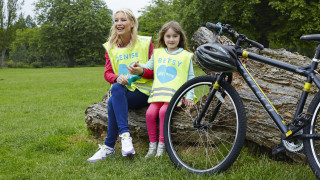 Sir Chris Hoy, Sky Ambassador, said: 'I'm delighted to be involved again in this year's Sky Ride campaign. Over the past eight years, tens of thousands of local cyclists have taken to the streets as a result of the successful British Cycling and Sky partnership and we really look forward to making the 2016 Sky Ride events the biggest and best yet.'
Denise van Outen, Sky Ride Ambassador, said: "As a keen cyclist, I've always found cycling a great way to get out and be active with family and friends.
"I love getting out on my bike with Betsy and we're thrilled to announce the launch of Sky Ride, in its biggest year yet. Sky Ride events are the perfect opportunity to get your family together and have a great day out with so much to do, both on and off the bike."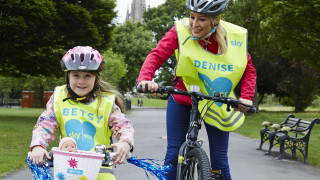 David Bourque, British Cycling's director of recreation and partnerships, said: "We are delighted to once again bring a big traffic-free cycling event to 12 cities in partnership with Sky, Sport England and local authorities. It doesn't matter how old you are, how old your bike is, or how fast you ride – at Sky Ride it's all about getting on your bike and having fun."
Liz Darran, director of brand and creative at Sky, said: "We're excited to announce the return of Sky Ride which will see thousands of people across the UK get the chance to enjoy cycling through their town or city on traffic-free streets.
"This year we're celebrating our millionth Sky Rider, and we're very proud that over 1.7 million Brits now cycle regularly as a result of our eight year, game-changing partnership with British Cycling. Together we want to continue to inspire even more people to get out on their bikes and enjoy cycling."
Since its partnership with British Cycling formed in 2008, Sky has helped to transform cycling in the UK for riders of all levels, from families cycling together at their local Sky Ride events to the world class Team Sky, who will be going for their fourth Tour de France title in five years this July.
Sky Rides are taking place in Bradford, Southampton, Bristol, Sheffield, Manchester, Leeds, Coventry, Ipswich, Liverpool, Leicester, Glasgow and York. Head to the Go Sky Ride Facebook and Twitter pages to keep up to date with all the latest Sky Ride news. For more details about how to get involved and register visit www.goskyride.com.