This weekend, Aberystwyth's Stephen Williams will line up for the Tour de Yorkshire with JLT Condor. The biggest race of his cycling career so far, he'll be looking to make his mark in the Tour de France legacy event.
The 19-year-old started 2016 in the southern hemisphere, racing in Australia, New Zealand and Taiwan. His JLT Condor team mates were behind him all the way as he stepped on to the podium in the UCI New Zealand Cycle Classic. Returning to Britain, Stephen has been racing in the Motorpoint Spring Cup, supporting his team's efforts in the series.
"There are a lot of good characters in the team, we all get along well and it's a good set-up. I train with Mouldy (Jon Mould) most of the time, with us both being based in Newport. There's a strong Welsh group with Sam Harrison, Scott Davies, Dale Appleby, Rob Partridge and then Mouldy and me who go out training together. We use the roads around Monmouthshire, the location is perfect for its varying terrain; it's a good scene at the moment. When it comes to racing, there's rivalry between us but off the bike we're all good mates really!"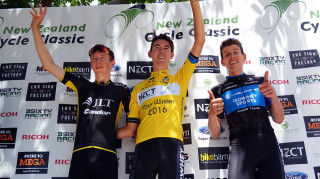 Supported by Welsh Cycling, Stephen lives in Newport sharing a house with Team USN riders Dylan Kerfoot-Robson and Tom Scammell. Being based in Newport gives Steve the access to the support and training he needs as a professional bike rider.
"Not many people get the chance to be a full-time bike rider, to have a job in the sport I love. Having the support of coaches, training and facilities is the best situation for me right now. I also get support from Sport Wales, there's nutrition, physiology, the gym, it's all there to help me as an athlete. I have been away a lot this year racing, but it's good to come back to that support base."
Stephen's part of the eight-man JLT Condor squad heading to the Tour de Yorkshire this weekend, his biggest race to date. With a strong field, he'll be joining World Tour teams in the peloton but has his own goals in the three-day tour.
"I'm looking forward to racing this weekend. It will be interesting, and probably an eye-opener racing against some of the top World Tour teams. It'll be good to see how it all works and get experience racing at that level. Stage 3 is the hilliest, it'll be the most challenging but I'm hoping that's where I'll go my best this weekend and get a solid result."
The Tour de Yorkshire will be live on ITV4 and Eurosport 2, with daily highlights also on ITV4. Follow Tour de Yorkshire on Twitter and join the conversation using #TdY. Check out the British Cycling guide to the Tour de Yorkshire.