Paralympic silver medallist Karen Darke will lead the Great Britain Cycling Team in back-to-back international events in Italy as preparations continue for the UCI Para-cycling World Cup in Belgium in May.
Darke, who won silver in the time-trial at London 2012, will compete at the Verola (23-24 April) and Brixia (30 April-1 May) Para-cycling Cups as she looks to build on a 2015 which saw her win four medals across three rounds of the world cup series and finish fourth in both the time-trial and road races at the 2015 UCI Para-cycling Road World Championships in Switzerland.
She is joined in the squad by Simon Price, a bronze medallist at the 2011 world championships, and Craig McCann and Hannah Dines who will both ride in the T2 tricycle class.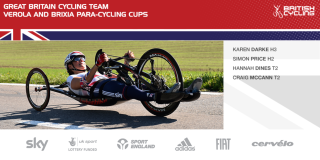 All four riders claimed national titles at the recent 2016 British Cycling Time-Trial and Circuit Race Championships.
They will all be hoping that their performances will lead to selection for the UCI Para-cycling Road World Cup in Ostend, Belgium from 20-22 May.
Great Britain Cycling Team, para-cycling head coach, Jon Norfolk, said: "After a successful start to 2016 for the team at the track world championships a number of riders will now be focusing on the road with selection for the para-cycling world cup in Belgium just around the corner.
"The events in Verola and Brixia always represent a great opportunity to see where our riders are in terms of form and fitness against some of their rivals and we'll be looking to see some strong performances."
Great Britain Para-cycling Team for the Verola and Brixia Para-cycling Cups
Karen Darke H3
Simon Price H2
Hannah Dines T2
Craig McCann T2