British Cycling is delighted to announce Motorpoint as the title sponsor of the 2016 Spring Cup and Grand Prix Series - the first commercial partnership of its kind for the series.
Motorpoint, the UK's leading car supermarket, are no strangers to domestic road racing, having sponsored a team in 2011. This new commitment as title sponsor of the Spring Cup and Grand Prix Series reflects the growing quality and popularity of domestic road racing in Britain.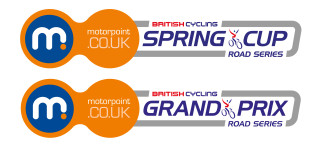 The deal allows British Cycling to build on progress made in recent years to ensure that riders have the best possible racing conditions and spectators can follow improved online and TV coverage.
Jonny Clay, British Cycling director of cycle sport and membership, said: "We're delighted to enter this partnership. It's the first time the Spring Cup and Grand Prix Series has had a title sponsor – that reflects where we are as a sport, and will allow us to build even stronger foundations for the future.
Gallery
"Motorpoint have supported road racing for some time and are committed to promoting elite level domestic racing. This partnership will further boost our efforts to create compelling races for riders and fans alike. We look forward to the start of the Spring Cup Series in Chorley on 26 March."
Mark Carpenter, managing director of Motorpoint, added: "We're absolutely delighted to be returning to professional cycling by becoming the first-ever sponsor of the new Motorpoint Spring Cup and Grand Prix Series and we look forward to working closely with British Cycling to help it become a leading part of Britain's world class domestic road race calendar."