Part of a series of articles introducing mountain bike leaders, where they work and how they are using their Mountain Bike Leadership qualification.
Under the spotlight this time is 22-year old Frankie Berks, a Level 2 Mountain Bike Leader and AIGL (Activity Instructor/Group Leader) Support Team Leader at PGL Dalguise in Perthshire. PGL Dalguise is a children's adventure centre in central Scotland, offering activities ranging from zip wire and canoeing, through to pedaling through the Craigvinean Forest.
Despite spending a large proportion of her working day on her bike, Frankie first discovered the joys of cycling and the great outdoors relatively recently.
"It started in 2013, so three years ago now. I wasn't very outdoorsy and my life revolved around football really. It wasn't until I moved up into Scotland that I got into the outdoors. When it comes to two wheels I did a little bit of motocross with my brothers but it wasn't until I was 19 that I learned to ride a bike properly. There are a lot of people up here into a whole range of sports and cycling was a big one so I started going out on days off and evenings with friends and really started to get interested in it."
It was training for a charity ride that really fired up her passion for mountain biking and inspired her to sign up for the Level 2 Mountain Bike Leadership course.
"My best friend from home fell ill and I decided I was going to do a charity bike ride to try and raise some money for her. It was an off-road Welsh coast to coast over three days. So I got out and started training and the more I did it, the more I enjoyed it. After that I thought, what's next, what's my next challenge? The British Cycling Level 2 was mentioned to me and it just really appealed."
Along with time on her bike, it was the variety of skills that the course delivered that Frankie really felt she benefitted from.
"PGL recruited for people to take the course and we started in early November. It was amazing, we just got to go out and ride bikes every day for six days a week and do the odd maintenance day and other stuff. This was for about four weeks and then we went and did the British Cycling training days. We did a training day, a maintenance day and a skills day and then went back to our own and other PGL centres to experience different trails and work on other skills such as navigation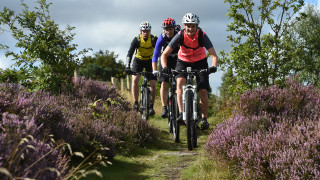 "The course gives you a bit of everything. It gives you the leadership skills you need, the coaching to improve your own personal riding and maintenance skills. It really does cover all you need to know, which is great for my job."
Having passed her assessment, Frankie loves being able to pass on the skills and knowledge the course has given her.
"It's one of those sports that you really get out of it what you put into it; you don't have to be a brilliant mountain biker to have a lot of fun - and it's great exercise! I've found with the kids that I've worked with, when they ride something that thought they couldn't do, the confidence it gives them is amazing. It's great to see."
Frankie describes one experience that sums up what the Mountain Bike Leadership award has given her.
"For my final session of last season we had a group - most of whom were fairly confident - but there was one little girl who despite doing everything well, kept on saying 'I can't do it, I can't do it'. She had a fair bit of talent but was just really nervous and lacking confidence. We've got a section that runs through a little stream and she just stopped and talked herself out of attempting it. I just sat with her for a little while, spoke to her and she decided, if I said she could do it, she'd be able to do it. Off she went, rode it and then rode it another three or four times. She was buzzing, went straight back to her teacher saying 'you'll never believe what I just did'; she was so happy with herself!
"There is no better feeling than inspiring other riders to do something they didn't believe they could, or have them look up to you as a role model. Having the Level 2 allows you to be that person! It gives you the confidence and self belief to do more in all aspects of your life. Since passing my Level 2, I have become a Team Leader at PGL, joined the fire service as a retained firefighter and been signed to a race team. I believe the Level 2 gave me the skills confidence and self belief to do all of these things. In my opinion, the Level 2 is a brilliant qualification. It's hard work, but rewarding - but I think if you love riding your bike, you're half way there!"
Frankie went through her MTB Leadership training as part of PGL's partnership with British Cycling. PGL's Activity Technical Advisor and Trainer, Bob Timms, explains why this partnership has been so successful.
"Mountain biking has changed significantly in recent years, enhancing natural riding, along with the proliferation of trail centres and activity centres creating their own trails. Equipment has also developed with this growth, alongside more riders looking for greater adventure.
"The British Cycling qualifications have been able to incorporate these factors into their courses at all levels. Level 1 is perfect for our instructors working on our on-site trails and, for those like Frankie who want to take it further, Level 2 is more robust and versatile. The dynamic style of leadership it encourages means that the ride isn't micro managed and constantly interrupted. It creates flow, enhancing the riding experience of our guests and letting them experience what we love about mountain biking."
Just click on the link if you have been inspired to find out more about British Cycling's Level 2 Mountain Bike Leadership Award. There is a short video to get you started.