Ryan Perry made it a great start to the season for the recently resurrected Metaltek-Kuota Racing Team by winning the Tour of the Mining Valleys in Aberystwyth.
Perry, along with NFTO's George Fowler chased down lone escapee Ed Laverak, JLT Condor, to forge ahead in the last five miles after all three had been part of the day's long breakaway. Laverak had taken matters into his own hands once the race began the main climb of the day at 58 miles, the 1 mile climb at Pontrhydygroes, known locally as the 49'er. Previous to this, the seven strong breakaway group had formed on the first lap of a 14 mile circuit which included the fearsome 16% Penywern climb. Three laps of this last minute circuit were ridden prior to the race resuming its original route towards Devils Bridge, due to a landslide on part of the original course during the week leading up to race day.
With the bunch losing time on the break, Laverak's attack on the 49'er looked to have won the race, despite another 13 miles of racing left to ride, his gap was over one minute back to the chasing Fowler and Perry. A rolling run-in combined with a strong Northern crosswind enabled the twosome to claw back this advantage and on a very fast section of the course near the village of Pisgah on the A4120, they surprised the young JLT Condor rider with a burst of speed that didn't allow him to jump on.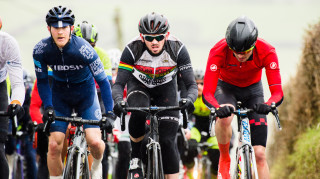 The duo played some cat and mouse in the final stages with the Metaltek-Kuota rider edging the sprint and Laverak at 1 minute 26 seconds. Just half a minute later, another two riders from the break Richard Bussell, AeroCoach and Andrew Feather, Saint Piran, rolled in after 72 challenging miles.
William Haynes of Reading CC came in 6th place with the look of a rider who's just finished a wet Belgian Classic, as did all of the riders thanks to a combination of sleet, hail & muddy roads.
The junior prize went to Dan Coombe, Planet-X-Northside Cycling.
Ystwyth Cycling Club would like to thank the full entry of riders from such a wide range of clubs, teams and areas who made the race once again live up to its reputation as a hardman's road race.
The next promotion on this course takes place on Sunday 14 August, the Angela Davies Memorial Road Race for 2/3/4 category riders. Entries will go live via British Cycling in the next few days.
Results
1 Ryan Perry Metaltek-Kuota
2 George Fowler NFTO
3 Ed Laverack JLT Condor