Welsh Cycling congratulates Velo Club Melyd on successfully complete the Go-Ride Clubmark accreditation and gaining Insport Ribbon status from Disability Sport Wales.
Brett Jones, Disability Sport Wales Officer presented Paul Rutt, President of Velo Club Melyd with the Insport Ribbon award at their recent committee meeting at Marsh Tracks in Rhyl.
Paul was pleased with the club's achievements: "It's fantastic to see our club continue to develop and we're so grateful for the continued efforts of our volunteers, achieving InSport Ribbon status is part of our overall club development programme and we're looking forward to another successful year."
Velo Club Melyd provide inclusive cycling opportunities across all of their coaching sessions for both youth & adult members and provide a supportive environment for any person taking part.
Brett Jones, Disability Sport Wales Development Officer said: "It's great to see the club starting to work through the Insport accreditation, resulting in being awarded their ribbon award, and to see them now providing inclusive opportunities.
I'm looking forward to supporting the club further and to see the hard work everyone at the clubs puts in as they move forward on their journey through insport and the benefits this will provide to the clubs overall development."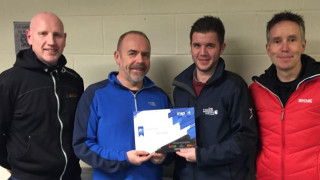 The Go-Ride programme provides a fun and safe way to introduce young riders to the world of cycle sport and provides a platform to improve bike handling skills.
Velo Club Melyd offer a wide variety of coaching sessions hosted at Marsh Track, Rhyl. The addition of Disability Sport Wales Insport Ribbon Award recognises the clubs commitment to provide an inclusive and supportive environment for any person wanting to try the sport of cycling.
Velo Club Melyd currently has over 150 members, 25% of which are under 18 years old, with sessions delivered throughout the year at traffic free facilities thereby offering a safe environment for people to try cycling.
Getting involved is easy with a local Go-Ride Club, you can find your nearest club using the Club Finder.