Community centres in London's Tower Hamlets or Tottenham might not be places you would expect BMX coaching sessions to take place, but these are the environments that Go-Ride coach Nathaniel Martin is seeing the sport thrive.
Nathaniel works across London to engage young people with BMX by offering dedicated and regular coaching, as well as providing a van full of bikes.
This is a project that came about through a partnership between British Cycling's Go-Ride programme and Access Sport, a charity whose mission is to give children - particularly in disadvantaged areas - access to quality local sport.
Access Sport launched their BMX Legacy Project in 2011 to target London's youth and introduce them to a sport that was ideal for inner city parks and playgrounds.
Working with British Cycling to achieve this vision, the project now reaches 15 London boroughs and around 17,000 people. This is exactly the vision that Lord Sebastian Coe, David Beckham and the wider bid team presented to the International Olympic Committee (IOC) in Singapore back in 2005, winning the right to host the 2012 Olympic Games in London.
Hear from Sir Chris Hoy on his support of Access Sport's BMX Legacy Project
BMX in LDN
To replicate the demands of BMX racing across the city, one of the aims of the BMX legacy Project was to build small, sustainable tracks in London's boroughs.
These locations quickly became hubs for the sport, with many now hosting their own club sessions. In partnership with Go-Ride, this development was then paired with the delivery of BMX coaching within inner city schools through the work of Go-Ride Coach, Nathaniel.
To date the Legacy Project has introduced ten new BMX tracks to the city, however there are inevitably pockets where a school may not easily be able to access a facility or community events that take place at a given location.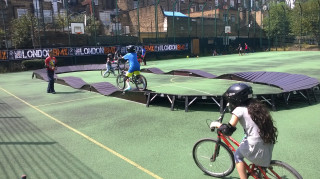 Bringing BMX to car parks, tennis courts and even large indoor event spaces, Nathaniel uses exciting kit such as Access Sport's portable BMX track which consists of banked wooden berms and rollers. Thanks to some innovative coaching, Nathaniel can deliver exciting sessions at some unlikely locations:
"Providing young people with a BMX experience without the aid of a BMX track has the potential to ignite excitement in that young person's day.
With BMX being such a niche discipline within cycling, bringing it to young people's feet is a sure way to build participation and hopefully encourage young people to become members of the many Go-Ride BMX Clubs in London.
"The portable BMX track is a great invention to give any young person a true BMX experience without the worries that a beginner might have of using a dirt BMX track. I can use the whole track or simply one or two ramps, so the versatility of the track allows me to create an appropriate BMX environment for a variety of abilities."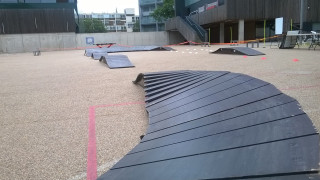 Flatland
Replicating the sport in a playground and inspiring young people to ride BMX bikes is not just about the kit being used. Nathaniel explains how he uses the coaching skills developed through British Cycling courses, his own experience and observation of other coaches and community leaders:
"Like many other coaches, I believe that basic cycling skills should be learned on flat ground and then progressed and applied in the discipline specific environment. BMX is no different.
"From cornering to pumping, all techniques can be taught on a playground or field. Limbo poles are fun but also help riders to distribute their weight and change body position for skills such as pumping and manualling.
"And recreating a BMX course on flat ground is surprisingly simple by forming corners and obstacles using different shaped cones.
"I like to replicate a BMX course when coaching school sessions. This really worked well when coaching a group of 16 girls at Bishop Thomas Grant School - which also happens to be my old secondary school.
"It's a great way to teach good cornering and once the girls grew in confidence I was able to put them into groups to go around the course together. This led to mini races with fierce but enjoyable competition.
"As someone that has raced and enjoyed BMX from a young age, I happily share my experiences with the young people that I coach. I believe that through being excited and passionate about the sport myself, the people that I interact with will feed off that - not only helping them to enjoy BMX but making them more receptive to coaching.
"Growing up in London, if you weren't playing football, you were out with your friends on a cheap BMX or mountain bike - and this is still the same today in 2016.
"I love when a kid rocks up to a BMX track on his beloved BMX which is in desperate need of TLC. Rusty chain, handlebars pushed as far forward as possible, seat post sky-high, but loving the sport all the same.
"Interacting with young people such as this and inviting them to club sessions which are safe and fun is what it's all about."
2016 will see some big changes in the way that the Go-Ride programme is delivered in London, with this meaning that even more schools, clubs and community clubs will be exposed to the sport of cycling.
Together with Access Sport, We're excited to see where the sport will be in 12 months' time and the huge gains that the BMX Legacy Project will undoubtedly have made.
To find out more about Access Sport's work, visit accesssport.org.uk