Looking for a challenge in 2016? Why not tackle one of the many sportives taking place right here in Wales?
Dan Caunt, In-house Lawyer at Admiral Group Plc, attacked the 2015 Velothon Wales and won! Dan first took to cycling 10 years ago as a commuter, following dramatic events in London in 2005.
I was working very near to Aldgate Station in the City on the morning of the 7/7 bombings in 2005 as my office was pretty much next door. That night, all of the tube lines remained closed, I needed an alternative means of getting home. This meant a 6 mile walk, which I would never normally have contemplated but actually was surprisingly easy and not hugely slower than getting the tube or bus. I was pretty shaken by that day's events so the next day I bought my first commuter bike.
In 2009 I started to take on more challenging cycling events each year. I began with charity rides, increasing the distance to sportives including CARTEN 100 and a 120 mile ride from Miskin to Taunton for 2 Wish Upon A Star. When I heard a team of colleagues from Confused.com were putting together a team for the Velothon, I couldn't resist. It looked like a tough course but Confused.com had arranged team cycling jerseys. How could I say no?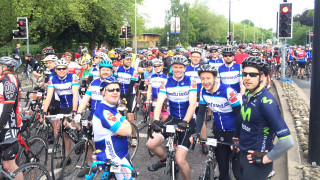 Training
I have always been relatively active but never a sportsman of any particular note. My wife and I met playing hockey at university but, she's the real athlete in this relationship with international honours and awards. I was more of a club player, a reliable member of the third or fourth team who was pretty good at admin. In fact, the family trophy cabinet is wonderfully divided, her winning trophies and Wales caps versus my 'captain's' or 'most improved' awards. I have given many of the clichéd hobbies a go; squash, surfing, fly-fishing, petanques, running (slowly) and cycling. I have not managed to master any of these sports while juggling an intense job, a couple of young children and also carrying around a reasonable dad-bod. The Velothon was more about survival rather than nailing personal bests.
The Confused.com team set up a Strava club so it was easy to measure my training against my colleagues. I surprised myself by taking increasing interest in my colleague's average speeds and how much climbing they had done on their Saturday mornings. I had a good look at the Velothon route and worked out that my main opposition would not be the distance (90 miles) but the climbs. I figured that any weight I could lose during the spring would have a decent impact on my ability to go the distance while reducing the pain.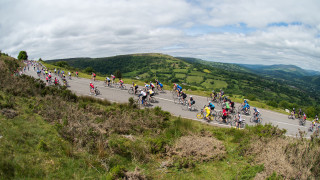 I entered the Mumbles Duathlon which took place on a sunny day in late March. This meant I could spend the dark weeks after Christmas focusing on 5kms and 10kms and short cycles to get in as good a shape as possible for that. Being completely new to multi-discipline events it was all very exciting and allowed me to buy more lycra and experiment with stuff like energy bars and gels.
As the weather was now warming up I tried to do at least one ride between 50km and 90km every fortnight leading up to the Velothon and included as many hills as I could stomach. A family holiday to Club La Santa in Lanzarote in early May was a great opportunity to do a little more running, some cycling up and down volcanoes and even notch up my second Duathlon in two months. My final training ride was at the end of May up and down some of the Brecon Beacons with a bunch of lawyers from Cardiff. This ride included the famous 'Gospel's Pass' which was an absolute killer and required a number of stops for me to get up. I got there in one piece but the main thing for me was that I got there.
The Velothon
I could not have been more excited about the event. I spent some time getting the bike in good shape, buying spare inner tubes and stocking up on flap jacks and gels. The pre-race information made clear that if any rider fell behind the 19km/hour broom wagon pace then they would be forced to withdraw. However, there was an emergency shortcut just south of Abergavenny that was made available to anyone who didn't look like they were going to survive the "Tumble", the day's biggest climb. In my head I was almost certain that I was going to be diverted down this route.
The Confused.com team all gathered outside the office ahead of our 8.00am start. The event had been superbly organised and we all got off on time to rapturous applause from the enthusiastic onlookers, including Colin Charvis. The first 30 or so miles to Usk went without incident as everyone found their rhythm and settled into the day. I found a natural pace with a couple of colleagues who I managed to stay for most of the day. I was amazed quite how many people had decided to set up camp around the course to take in the atmosphere and cheer everyone on. It really made a huge difference and certainly spurred me on to pedal that bit harder.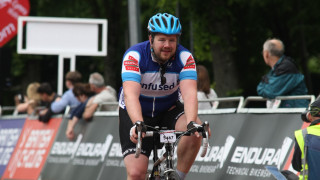 I took the view that I couldn't be the 15,000th slowest person on the day so I just stuck to what I knew and ground out the miles. Before I knew it we were at the foot of the Tumble. It was a shame to have to stop a few times and even walk a little bit but I still felt elated at the summit and was confident at that point that the Velothon was in my sights. We all joked that we only had one more walk left before Cardiff, at Caerphilly mountain. Following a fairly relentless slog, I was completely out of energy as Caerphilly mountain lurched into view and this walk became a reality. I gave it a bash but I am not too proud to admit a fair amount of walking was required to get me up the steep ascent.
Once at the top it was all downhill to Cardiff. For me this was the real highlight. With the roads closed and loads of supporters I found some energy from somewhere and caned it through the streets high-fiving friends and strangers along the way. At one point I got quite emotional which was probably down to a mixture of exhaustion, sugar overload, excitement and wanting to see my family. So with the residue of tears and sun cream streaming down my red face I took the last few turns past City Hall and onto the finish line. I'd made it in one piece, and with no puncture, and the feeling was amazing.
What next?
I've entered for the 2016 Velothon along with the Confused.com team. There will always been that annoying feeling that I couldn't make it up the hills without stopping. Maybe I'll try to get myself in better shape for 2016!
You can enter the 2016 Velothon Wales here, and look out for your chance to win a sportive place with Welsh Cycling in January.