A representative from British Cycling's National Youth Forum, Sarah Gregson, recently visited an Evans Cycles store to see the new HOY bikes for the Go-Ride programme. Here, Sarah shares her interview with the store manager, Craig Maden, who gave her a behind the scenes glimpse of the new bikes being built.
On Saturday 21 November, I took a trip into Manchester to the Evans Cycles store next to the National Cycling Centre. I arrived and met the manager Craig, just as the Christmas decorations were being put up. Craig showed me round to have a look at one of the 1,500 HOY bikes being built for British Cycling's Go-Ride programme for use around the country to encourage more children to get into cycling.
So have you built the bikes yourselves?
Our mechanics have yes, so it's Chris and Matt in the workshop who have been doing all of the builds for British Cycling.
How long does it take to put a bike together?
The HOY bikes come pretty well built from the factory however they do go through a whole list of checks, between half an hour to an hour generally.
So not too long then, you could do a couple in a day?
Yes, when they put their minds to it they can get a lot done in a day but some throw up some interesting problems sometimes, some are a bit trickier than others and some go together really easily.
What makes the HOY bikes special?
The really nice thing about the HOY bikes is that they are very well designed with child specific geometries. Things like the crank arms are shorter, to allow for shorter legs essentially, which is something that a lot of brands have not really paid much attention to in the past, so it means (other bikes) are really hard work for kids to actually pedal.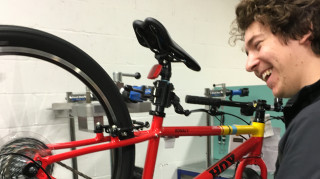 They are nice and lightweight thanks to the things like the aluminium forks. It has some modern features like the integrated headset as well which again is not something you get on many kids' bikes. A mixture of lightweight and quality components is what makes them really really good. I think these are one of the lightest in their class of bikes at the moment, it's good.
Why are HOY bikes great for kids?
I think they are better than some of the other brands because they are easier to ride. It will inspire the kids to actually ride them more and do more on them. There are members of staff within Evans Cycles who have children who have used them. Our regional manager has taken his little son out on long proper mountain bike rides, on one of the HOY bikes, which a cheaper bike just couldn't handle or couldn't do. They are quality bikes designed for proper cycling rather than just looking like a mountain bike.
Do you have any top tips for using the bikes or for young kids riding in general? Such as setting seat heights?
With seat height, you want to be confident in being able to handle the bike. Ideally with the seat at the correct height, your legs should be almost straight at their longest point but sometimes you've got to balance that with being able to get your feet on the floor properly.
Using your gears properly is important as well. Another tip would be to not just stick to one gear, they are there for a reason and they can make the ride a lot easier. Aside from that don't drop them on the floor either; it's not good for bikes! Everyone's dad tells them not to, I know my dad told me not to!
What do you think about the fact that the bikes have been developed by Sir Chris Hoy?
I think it is great, the range of kids' bikes Sir Chris Hoy is doing is far exceeding what I expected. I thought there would be just one or two normal kids' bikes, but they are doing little mini-racers, mini-track bikes, and mini-cyclo-cross bikes. So they are attracting the parents that are into of all those different disciplines, who say 'yes I can have a mini me'. They are brilliant and are put together really nicely. I think Sir Chris has really got behind getting the next generation to cycle more and I think it's going to work.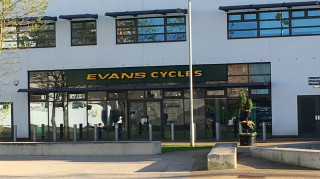 What do you think about the bikes being used by Go-Ride coaches across the country to give young people more chances to get involved?
I think it's great, it sounds like a really good initiative, they couldn't have chosen a much better brand and bike to go for. Obviously it will get a lot of exposure for the brand, which is always good but essentially they are a good reliable product that would make a great fleet of hire bikes or demo bikes. They should enjoy it and I think it's great that schools get to use them.
What do you enjoy about working for Evans Cycles?
I love being around bikes all day and talking about bikes all the time because I love bikes myself. It has given me a lot of opportunities in life. Evans Cycles has been a great company to work for. It is still growing, massively since I joined the company six years ago. It will be exciting to see what's going to happen next.
Just one last question, because you are next to the National Cycling Centre, do get to see many professional cyclists coming in to the store?
We do, yes, Sir Chris Hoy himself comes in quite a lot, because he lives in Manchester as well, that's one of his bikes in that bag there. We've seen Mark Cavendish come in, Sir Bradley Wiggins, Ed Clancy, Laura Trott and other professional track cyclists as well. I got to go and see the hour record, when Alex Dowsett did that, which was good, although he got eclipsed by Sir Bradley Wiggins' effort a month later. It's a nice shop to work at because of the clientele.
It is obvious to see that a lot of thought has gone into the design of these bikes and the new partnership between Evans Cycles and Go-Ride. They should hopefully inspire more children to take part in the wonderful sport of cycling and uncover a few more Olympic champions.