Great Britain Cycling Team's Germain Burton is hoping a young team can learn a lot from being pitted against some of the world's strongest teams at the UCI Track Cycling World Cup in New Zealand from 4-6 December.
With Ed Clancy having to withdraw from the Great Britain Cycling Team squad, Burton expects a tough weekend of racing, but is confident of the ability in the team.
"We have a young team there but there is still a lot of quality," said Burton. "We will go into the competition with high hopes and if we were to get a medal that would be great.
"To not have Ed there is obviously a big loss, for both the strength he adds to the team and also the experience he brings.
"We will have to do our best without him and it's a great opportunity for us to prove ourselves as young cyclists, and it will be good to be pitted against some of the world's strongest pursuit teams," added Burton, who won team pursuit bronze at final round of last season's series in Cali.
Clancy has been replaced by Joe Holt, who has joined Burton along with the rest of the team for training ahead of the event at the Avantidrome in Cambridge. Due to his late inclusion Holt missed the training camp in Tenerife, and Burton was also unable to attend due to racing in Gent.
"In the last week the team have been coming back from various places. I've travelled back from Gent, other members of the team have returned from a training camp in Tenerife and then following Ed's injury, Joe has been drafted in from the academy training programme.
"The last couple of days have gone quite well in the sessions we've had, and now there's a couple more days in New Zealand where we will hopefully brush up on a few things technically."
As the Olympics draw closer with every race, individuals become more and more eager to prove their worth and in turn the pressure rises. Burton, however, is confident that the conditions will bring out the best in him.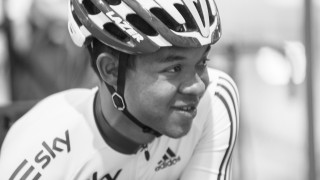 "Olympic qualification adds pressure, as does it being a world cup round, because there is an expectation that GB will be competing at the top I'm confident that pressure will help me raise my game.
"Obviously we are all looking forward to Rio, I dare say a couple of the younger riders might be in with a chance of selection especially with so much strength in depth in the squad."
Burton, 20, along Mark Stewart, raced in the under-23 Madison in Gent in November, and became the third British pair in recent years to win the event after Chris Lawless and Matt Gibson last year and Owain Doull and Simon Yates in 2011.
Those riders' successes in the past year fill Burton with confidence for the future.
"Because British riders have had so much success in the race it gave us a lot of confidence and we really enjoyed it, got stuck in and won.
"To see where those guys have progressed to now; Doull now a strong part of the squad ahead of Rio, and Simon mixing it with the best of them in the World Tour, gives us both massive confidence that we'll be able to pave similar paths."