On a cold Wednesday in early November, a group of mountain bikers headed to Coed Llandegla Forest in Wales to battle the elements and put their newly developed skills to the test.
Accompanied by Go-Ride Coach, Joe Malik, the all-female group explored what the forest had to offer after attending Rider Development Sessions together over the spring and summer. Joe ran the series of progressive sessions as part of British Cycling's Go-Ride programme which aims to increase the number of opportunities available for young people and typically under-represented groups in the sport.
The initiative also contributes to the spirit driving British Cycling's #WeRide women's strategy, which aims to get one million more women cycling regularly by 2020. A total of 22 women over the age of 18 took part, with the intimate group size on each session meaning that these riders will be more likely to continue with the sport.
Starting back in April, a series of eight beginner's sessions were held on the Clayton Vale mountain bike skills area and trails at the National Cycling Centre in Manchester. With an 18:00 start time, the 90-minute Monday evening sessions proved a popular way for participants to kick off the week and challenge themselves in a completely new environment.
The beginner's course typically took a similar format from week to week, with Joe introducing techniques that would then be honed on the skills area for the first 30 minutes. Techniques included body positioning, bike set up, pumping, gear selection, climbing, descending and drop offs. After some dedicated coaching, the group then moved to the trails to apply their newly developed abilities to a natural mountain biking environment.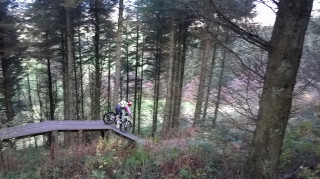 Kathy England was one of the riders who made the trip to Llandegla after attending both courses over the spring and summer – as well as taking part in the training in 2014. Speaking after the beginner's course, she said:
"I have really enjoyed the women's mountain biking sessions over the past few weeks – once again they have been really well pitched with excellent feedback. I think we have all had a lot of fun taking part in them, whilst our confidence has improved significantly."
Building on riders' developing knowledge of the discipline, the intermediate course that began in July exposed participants to increasingly technical skills such as manuals, front wheel lifts, rear wheel lifts, wheelies and hopping. Again the coaching and skills focus took place at Clayton Vale, allowing progressive development to more advanced trails within the central Manchester facility.
Equipped with a wide range of skills practised almost weekly on the trails and skills area at the National Cycling Centre, riders were given the option to travel to Coed Llandegla Forest. The trip provided an opportunity for the women to take a step out of their comfort zone and really cement their riding abilities for a lifelong relationship with the sport.
Fresh back from leading the ride, Go-Ride Coach Joe described the group as having "covered huge territory mentally, physically and geographically.
"Going from riding a berm for the first time through to finding your own line on a black trail is a massive achievement - and one that puts each rider in a great position to continue their own mountain biking."
Kathy also praised Joe and the benefit of having such close access to personalised coaching:
"I thoroughly enjoyed our day out at Llandegla – going round the trails with coaches makes so much difference to my confidence to have a go at things I probably would not attempt otherwise (e.g. any black trails!)."
The women's novice mountain biking coaching sessions will start again in March 2016 at the National Cycling Centre in Manchester. If you are interested in attending, please email joemalik@britishcycling.org.uk to be added to the mailing list.