The 2015 UEC Track European Track Championships take place from 14-18 October at Velodrome Suisse, Grenchen, Switzerland. Find out how to follow the event online and on TV.
Online
Access daily reports, reaction, results and images on the British Cycling website
Follow @BritishCycling on Twitter for regular updates
Follow @Grenchen2015 for the official event Twitter feed
Use the hashtags #EuroTrack15 and #Grenchen2015 for updates and to get involved
Bookmark the official event website
Go to the UEC website for information and results
On TV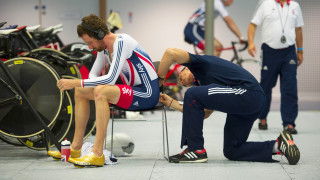 British Eurosport and British Eurosport 2 will be offering comprehensive live coverage of the event.
Wednesday 14 October
British Eurosport 2, 6:00pm – 8:30pm
Thursday 15 October
British Eurosport 2, 6:00pm – 9:30pm
Friday 16 October
British Eurosport, 8:30am – 3:00pm
British Eurosport 2, 6:00pm – 9:30pm
Saturday 17 October
British Eurosport 2, 8:30am – 11:30am
British Eurosport, 4:30pm – 7:30pm
Sunday 18 October
British Eurosport 2, 9:00am – 11:30am
British Eurosport, 3:35pm – 8:00pm
British Eurosport, 8:30 – 10:45pm