Great Britain Cycling Team's Owain Doull continued his impressive 2015 with fifth place in the under-23 men's time trial at the UCI Road World Championships.
The 22-year-old from Cardiff completed the 30 kilometres - two laps of the course in Richmond, Virginia - in 37:47.21 on Monday.
Doull, who won the best British rider and points jerseys at the Tour of Britain, finished 36 seconds down on Denmark's Mads Wurtz Schmidt who was crowned world champion.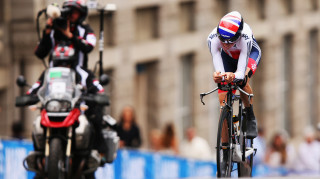 "I think I paced it well," Doull said.
"I didn't come here with a massive amount of prep with the Tour of Britain taking the priority but I had a good hit out today for the road race, which is more of a goal for the week.
"I'm happy with a top ten. I've never done a major worlds or Euro under-23 time trial so I was going into the unknown a bit."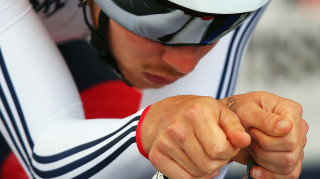 Explaining why he had 'aero' written on his hand (above image), Doull said it was something he had picked up from Sir Bradley Wiggins: "On a course like this, with it being so quick, and so open, the more you can stay aero the better.
"It's for the last 20 minutes or so when you're really struggling so if it's on your hand you're always thinking about it. I do it more at a lot of major time trials, and it's one thing that Brad does actually, so that's one thing that I've taken from him. It gives you something to think about other than the pain."
British under-23 time trial champion Scott Davies was 34th in a time of 39:30.65, having only recently returned from injury at the Tour of Britain after missing August's Tour de l'Avenir.
Germany's Maximilian Schachmann and Lennard Kamna were second and third respectively.
Junior women's time trial
In the junior women's time trial, Abby-Mae Parkinson and Elizabeth Holden finished 23rd and 31st respectively as American Chloe Dygert took a popular win on home soil.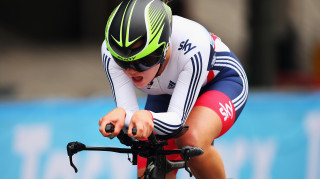 Holden was the first rider down the start ramp for one lap of the 15-kilometre course in downtown Richmond and set a time of 23:25.28.
Parkinson left as Holden finished her effort and the 18-year-old was able to better her teammate's time in 22:41.00 as Dygert took the rainbow jersey in 20:18.47.
Gallery
Reflecting on the performances, Great Britain Cycling Team coach Stuart Blunt said: "They rode it technically well but will be disappointed with the results.
"For Lizzie it was using today to open up more for the road race. Abby-Mae would have liked a top-ten; she rode the race well but just didn't have the legs today.
"They learnt about preparation - the travel, the time differences and those kinds of things; between getting off the plane and the start line. I think the bike race, from start to finish, they rode that quite well."
The championships continue on Tuesday with the junior men's and elite women's time trials.
Results