Imagine sitting in a primary school maths lesson and knowing that, after the morning break, you and your classmates would be heading out mountain biking! While this is not something that many of us remember from our early years, it's becoming a reality for some.
Introducing mountain biking to be part of the primary school curriculum is a huge task, but mountain bike leader and Bikeability instructor, Stuart Rochford, has devised a successful programme of activity using his mountain bike leadership qualification for primary schools in Gloucestershire. We found out how he came to deliver the programme and what benefits it has for the pupils and school.
Hi Stuart, tell us a bit about your background and why you decided to qualify as a cycling instructor and leader?
I started off with lots of cross country racing and mountain marathons, representing Great Britain in European international orienteering races as a junior and senior. I was also involved with early development of mountain triathlons which involved kayaking, cycling and a mountain race at the end. Injury put paid to my running, but my experience in the cycle leg of mountain triathlons increased my involvement in cycling – particularly recently when an opportunity to train as a Bikeability instructor came up. I was also a walking mountain leader already, so the next logical step was to become a mountain bike leader, too.
How did you end up delivering mountain bike sessions in schools?
A teacher friend mentioned in conversation that schools now had the capacity to bring different sports into the PE curriculum rather than the traditional ones like football. Discussions with a local head teacher led to us implementing a trial series of four sessions with years five and six. These were so successful with the children that we have now extended the sessions to some year three and four pupils to run each week during term time.
We were also very lucky that a local 3,000 acre estate kindly lets us use their forested land for the rides, which features lots of different terrain including steep hills and stream crossings.
What do the children gain from going on a led ride?
Pupils get really excited about going out - and in almost all weather (with the right kit)! Besides the learning and mastering of new biking skills, the children help on route planning and it is a chance for them to understand teamwork while extending their own capabilities in order to achieve things they thought were too hard to do. It also helps in developing lifelong skills and a commitment to active lifestyles that will hopefully encourage them to continue mountain biking outside of school as they become older - for fitness and enjoyment.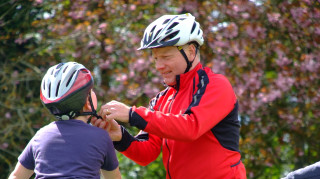 How does the school benefit from providing led mountain bike rides?
The mountain biking program offers the school a little local differentiation as not many schools have cycling as part of their offering. As the children really want to go out biking, it has benefitted classroom behaviour by acting as leverage for the teacher but generally, I think it aids self-confidence, being able to do something that some of the children thought difficult to master.
How do you tie the led rides in with the school curriculum?
The rides are conducted within PE lessons and therefore seen as part of the PE curriculum mix. The mountain biking sessions can also be related to the personal, social, health and economic (PSHE) curriculum and there are elements such as developing a healthy lifestyle, identifying and managing risks - even how to respond to an emergency - which can be discussed.
Aligning to other areas of the curriculum, there are even opportunities to practise geography with some map reading as well as exploring local history, geology, farming studies and practical skills such as mending punctures.
You are a Bikeability tutor; how does this complement your mountain bike leadership sessions?
During the term-time my day-to-day work is as a Bikeability Instructor where I teach a few hundred children a year, so I have some great contacts within local primary schools. It's not just a case of taking the children for a mountain bike ride though; we start with basic skills and techniques and build weekly on mastering these in order for the children to be safe and enjoy the rides.
The Bikeability training gives me skills to take across to my mountain biking programme including skill development using fun games, sequential skill mastery and developing the children's risk and hazard perception off road.
What's next for you?
At the moment I'm trying to complete my British Cycling Level 2 certificate in Coaching Cycling and then I'd like to add the Level 2 mountain bike award. In the new term I am working with a few more schools to roll out my programme and it's really great fun developing these ideas locally.
Opportunities with British Cycling
There are many ways that you can become involved in promoting cycling within your community – whether your natural environment is trail or tarmac. Qualifications such as mountain bike leader and Bikeability instructor can, as Stuart has illustrated, work together to provide really enriching opportunities for riders as well as equipping you with a broad range of skills.
If you are thinking about becoming a mountain bike leader, you will need to start by completing a training course and we would recommend talking to one of our tutors as a great first step. To learn the basics and find your nearest training venue, follow the link below.
Explore the Mountain Bike Leadership awards available.
Bikeability is based on the government approved National Standards for Cycle Training, which gives trainees the necessary skills to ride confidently on today's roads. As an instructor, your role would be to deliver this training in fun and informative ways to arm riders with knowledge that will be with them for life.