Alice Barnes scored her career-best result, finishing third under-23 at round four of the UCI Mountain Bike World Cup cross-country series in Mont Sainte Anne, Canada.
The British Cycling Olympic Senior Academy athlete started strongly and at the mid-way point was within one second of the race lead.
In an unpredictable race, Barnes battled Swede Jenny Rissveds and Switzerland's Alessandra Keller as the top three places changed constantly.
Earlier in the day Grant Ferguson suffered bad luck for a second consecutive time in the series, as mechanical problems put him out of the under-23 race.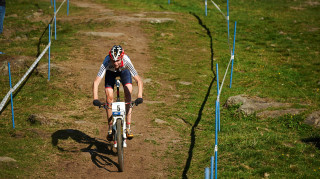 A flat tyre cost Ferguson his top ten place on lap two, but it was a broken freehub that left him without drive and unable to continue.
Under the 80 percent rule Ferguson was removed from the race by officials, listed as three laps down on the winner.
In the elite women's race Annie Last slipped back to finish 27th following a crash, having started strongly, riding in the top ten in the early stages.
The 2015 UCI Mountain Bike World Cup cross-country resumes next weekend in Windham, America.