Dame Sarah Storey opened Great Britain Cycling's Team's medal account at the UCI Para-cycling Road World Championships in Nottwil, Switzerland on Thursday.
Storey made it para-cycling world title number 21, defending her C5 time-trial crown, taking gold ahead of Poland's Anna Harkowska and Germany's Kerstin Brachtendorf.
The multiple Paralympic and world champion was unchallenged throughout the 21-kilometre event, contested over three laps of the shorter of two courses starting and finishing at Nottwil's Schweizer Paraplegiker-Zentrim.
The 37-year-old from Cheshire was up at both intermediate checks, eventually stopping the clock on 30:52.36, two minutes and 16 seconds ahead of the Pole.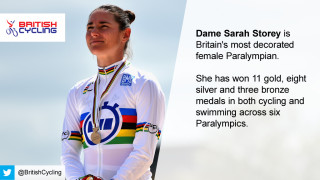 Storey was delighted to win yet another world title.
"It's a massive relief to win. It was great to do three laps. Most of the para-cycling time-trials I've done have only been two laps so to get a 30 minute TT was really good.
"The year before Rio, to be putting time into your competitors is always good. That obviously shows that the training and preparation has gone well. Hopefully I'll be able to retain this title in Rio next year."
Bronze medallists in 2014 and world champions the year earlier, Lora Turnham and Corrine Hall just missed the medals in the women's B tandem event, the British duo one minute and 31 seconds behind winners Iwona Podkoscielna and Aleksandra Wnuczek of Poland.
Earlier, Simon Price got Great Britain's Nottwil campaign underway with seventh place in the men's C2 event, clocking 33:07.20 for the 21-kilometres, with the world title going to Arslan Gilmutdinov of Russia.
Megan Giglia just missed the medals in the women's C3 time-trial, finishing fourth, 19 seconds behind bronze medallist Simone Kennedy of Australia, with Jamie Whitmore Cardenas (USA) taking gold ahead of Germany's Denise Schindler.
It was a similar story for fellow road worlds debutant Hannah Dines, who finished fourth in the T2 trike event, the 22-year-old Glaswegian posting 32:57.31 for her 14-kilometre effort, while Liz Saul was eighth in the C4 class in her world championships debut.
Great Britain's Steve Bate and Adam Duggleby took fifth in the men's B tandem time trial, three minutes and one second off the title-winning pace of Poland's Marcin Polak and Michal Ladosz.
The championships continue on Friday with the men's and women's H1 to H5 handcycle time trials.
Results
Women's C3 time-trial
Women's C4 time-trial
Women's C5 time-trial
Women's T2 time-trial
Women's B time-trial
Men's B time-trial
Men's C2 time-trial