First held in 1943, what evolved to become the British Cycling National Road Championships has become something of an institution with an amazing history. Here's the best from our archives.
Unification
Now a standalone event, between 1943 and 1948 there were two rival titles decided by the British League of Racing Cyclists and the National Cycling Union. In 1959, the organisations merged to become the British Cycling Federation.
Reigning champion has history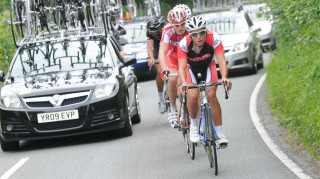 Pete Kennaugh - pictured in 2009 leading Chris Froome - is defending champion.

Reigning men's road race champion Pete Kennaugh first won a national championship title on the road in 2007 as a junior. He backed that up with wins as an under-23 in 2008 and 2009 – where he also finished second and third respectively among the elite men. Kennaugh only won the title on his fifth senior podium appearance, after a repeat second and third in 2010 and 2011 respectively.
Youth development
In 2003, three juniors filled the podium: Matt Brammier, Mark Cavendish and Geraint Thomas.
Yesterday and today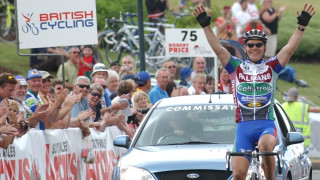 Now team manager for Madison Genesis, Roger Hammond won the title in 2003 and 2004.

In 1974 and 1980 Keith Lambert was crowned national champion. In 1982 John Herety had the honour and in 2003 and 2004 Roger Hammond matched this achievement. In 2015 all three are managers – Lambert of the Great Britain Cycling Team under-23 squad, Herety of Condor JLT and Hammond of Madison Genesis.
Most successful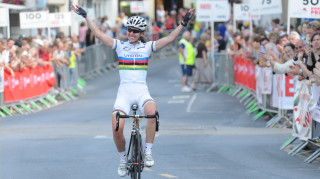 Nicole Cooke - pictured here winning her final title in 2009.
Nicole Cooke is the most successful rider of the modern era, winning the national road title from 2001 to 2009. She also won in 1999 as a junior – just 16 years old. Only Beryl Burton eclipses Cooke's achievement with an astonishing 12 victories between 1959 and 1974.