A spectacular show of force from One Pro Cycling gave the team of England cricketer Matt Prior their sixth win of the Pearl Izumi Tour Series at Canary Wharf on Thursday night to move them to within one point of the series lead with two rounds to go.
However it was an equally strong performance by Madison Genesis to battle back after Tom Stewart was caught in an early crash that earned them second and kept the team in the lead going into the final week's two events.
Individually it was the Australian criterium champion's jersey of Steele Von Hoff taking the individual glory, with the NFTO rider heading home Ed Clancy and Chris Opie in the final sprint beneath Canary Wharf's skyscrapers.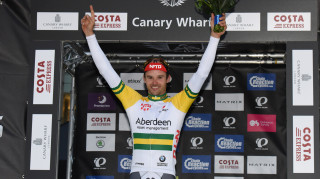 Having been felled from the peloton early on, all four Madison Genesis riders dropped back to Stewart in an effort to pace him back to the bunch setting themselves up for what was virtually an hour's team pursuit effort against the ONE Pro Cycling led peloton.
Lap after lap the five ONE Pro Cycling jerseys led the main field at a frightening pace, reeling in the quintet of Madison Genesis riders who, despite driving along the second group, never looked like regaining contact.
Eventually the Madison Genesis five were lapped, along with many other riders, and with all five ONE Pro Cycling riders in the front group the team win was assured.
However the fierce pace the team had set may also have contributed to their downfall, with other teams failing to keep up with the pace, the second fastest team across all five riders was in fact Madison Genesis, albeit a lap in arrears.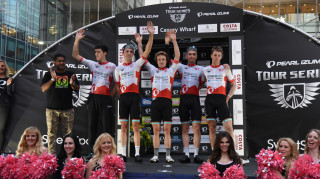 The dominant victory moves ONE Pro Cycling to one point behind Madison Genesis, with Pedal Heaven in third now assured of taking the trophy for the highest ranked non-UCI level team.
Stewart's absence from the head of the race meant Team Raleigh's Morgan Kneisky took back the Chain Reaction Cycles Points Jersey, while Opie's final lap dash may not have earned him the race win, but was enough for the Costa Express Fastest Lap trophy.
Earlier in the evening it has been Madison Genesis' Mike Northey who had helped his sponsor's corporate team, Madison, to victory in the Costa Express Canary Wharf Corporate Grand Prix.
Highlights from Canary Wharf will be shown on ITV4 at 10:00pm on Friday 5 June, with a repeat at 9:55am on Saturday 6 June.
The final week of the Pearl Izumi Tour Series sees Britain's fastest teams visit Peterborough (Tuesday 9 June) before the final round in the historic setting of Bath (Thursday 11 June), including a circuit which laps the famous Royal Crescent.
Both events will also include rounds of the women's Matrix Fitness GP Series, which culminates in Bath.
Results