Downhill mountain bike world champion Gee Atherton is hoping for another special performance as round two of the UCI Mountain Bike World Cup visits Fort William this weekend.
Twice a winner on the Nevis Range in 2010 and 2013, Atherton has fond memories of a venue he has been racing at for a decade, alongside his sister Rachel and brother Dan.
"Fort William is a big one for us and a special one for me because of the results I have had there in the past and the way we are greeted by the crowds" he explains.
"Doing it alongside Rach is massive and I think it does give us a boost going into the event knowing that each other is capable of winning, which is the case this weekend.
"We will both be pushing hard and gunning for the top spot for sure."
Bad luck, better planning
Two months on from the opening round of the world cup season, Atherton has been targeting Fort William as a comeback race from a nightmare start to the series.
A crash at round one in Lourdes, France turned Atherton's race from podium aspiration to damage limitation, as the world champion completed what he described as one of the hardest runs of his career.
With his wrist broken and his hand strapped to the handlebar, Atherton's descent was simply the start of his operation to salvage the series.
Completing the course fast enough to secure 47th place, Atherton had more importantly held on to the preferred top-80 practice slot for the next round.
Back in Britain, an intensive rehabilitation schedule to recover from the crash damage was complete in time for the second round of the British Cycling MTB Downhill Series – where it was expert planning that was on Atherton's side.
His choice of travelling to Fort William early to secure extra practice time ahead of the race, proved a wise move.
Early in the week the hill was open, allowing Atherton to fine tune his bike setup – but for those arriving for the race weekend only there was no such chance.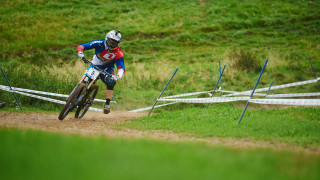 Inclement weather forced course closures and while Atherton won the race held on a shortened course, arguably his biggest victory was earlier in the week, when he secured crucial track time.
"To be honest we did anticipate that happening" Atherton explained.
"We went up early and rode it for a time before the lift closed.
"We got some testing and timing and got up to speed and felt comfortable on the track. I felt good and it was really useful.
"We had some changes to the bike this year and after last year we did have to make a few adjustments, but it's a massive boost to me going into this weekend knowing that I'm happy with the bike and that in itself makes you feel more comfortable when it comes to putting some times down on the track."
If ahead of the pace in Fort William, Atherton could reignite his hopes to win a second UCI Mountain Bike World Cup Downhill Series.
With his first coming five years ago in 2010, another would underline his status as one of mountain biking's eminent figures – but this weekend at least, Atherton won't let that cloud his judgement.
"I'm coming into this weekend focussed on doing what I need to do to ride how I know I can ride, that's what I'm looking for. To perform how I know I can and to go as fast as I know I can and that's the goal.
"My focus won't be on an overall this weekend, it won't even cross my mind, it's all about getting down this track as fast as I can and that's as far as it goes and that's as far as it needs to go really."
You can watch Gee Atherton race live on Red Bull TV this Sunday, at round two of the UCI Mountain Bike World Cup Downhill Series.