Great Britain's Grant Ferguson and Annie Last posted the top results at the opening round of the UCI Mountain Bike World Cup cross-country in Nove Mesto, Czech Republic.
However British Cycling's Olympic Mountain Bike Coach Julian Winn was keen to stress that the weekend was not about results - rather the beginning of a long period of hard work, to improve upon throughout the season.
Racing in the under-23 age group, Ferguson lined up number one on the grid, ahead of 150 competitors and in the first half of the race was competitive with the leaders.
In his final year of under-23 racing, the British champion is looking for his first world cup victory, however this would not come in Nove Mesto, as he finished in seventh position.
The placing still ensures Ferguson a place on the front row of the grid when the series continues next week in Germany.
Also racing were Iain Paton and Mike Thompson who finished 41st and 75th respectively.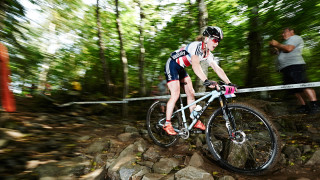 Annie Last – making her return to world cup competition following nearly two years of injury – began her progression back to the top of the sport.
Last's best ever world cup result came in 2012, when she finished third at the final round of the world cup in Val d'Isere, however today she started 31st on the grid.
From the first lap Last began to move up, ultimately finishing in 16th place. Importantly, this puts her on the second row for round two of the series, which means less traffic to negotiate in the early stages of the races.
Following his first world cup in charge of the squad, coach Winn described the start to the international season as "solid" but with a distinct focus on the work to be done.
"This weekend opened my eyes to what this is all about" said Winn, "and I am coming away with a lot more idea of what needs to be done.
"This is new for everybody – I'm not trying to replace what has been done – I'm looking to turn it up.
"It's about progression – we have done no top end training at this point, everything has been about volume and making the riders more robust and coming to a world cup like this means I wasn't looking to any of the riders for a result.
"Annie had a terrific race" Winn said, as he moved on to assessing individual performances.
"It was gutsy, a solid ride for her comeback and we know there is more to come. We wanted her to finish with good morale and she is smiling now. She did herself proud.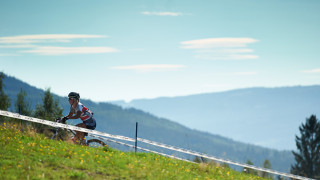 "Yesterday Alice raced and she is a bit down about the finishing position. But she is learning to ride at this level. She has made progress but this weekend bought the size of the task at hand home to her a bit. But she's determined to turn it around and I'm a big believer in her potential.
"Grant started well but he dropped off and will be disappointed with that. Any time you put yourself in the frame for a top three and don't achieve it you'll be disappointed – but it was a solid start for him. Grant is a self-driven individual though and he will want to rectify what he felt today."
Assessing the feeling within the squad, Winn was upbeat about the outlook for the remainder of the world cup series.
"All the riders are going through an uncomfortable time at the moment so I have to be there to support them. They are training hard to improve and racing at the same time, but we will go to Germany with our heads held high. You have to pick yourself up quickly and get on to the next race, because to go from where we are to where we want to be is a big task."
Round two of the UCI Mountain Bike World Cup cross-country takes place in Albstadt, Germany on 30-31 May, will full coverage on British Cycling.
Result:
Elite women
Under-23 men