Grant Ferguson will take the number one race plate and be gridded in first position as the 2015 UCI Mountain Bike World Cup Cross-Country begins in Nove Mesto this weekend.
Ranked world number one in the under-23 category, Ferguson enters his final season in the age group following seven years of progression as part of British Cycling's Olympic Performance Programmes.
Brought on to the Olympic Development Programme one year early by Phil Dixon, the ex-Olympic mountain bike coach marked Ferguson out as a "exceptional talent."
Three years on and Ferguson led the 2011 junior world championships in Switzerland, eventually finishing fourth.
By 2014 Ferguson became twice British cross-country champion for elite men and was racking up podium performances in the world cup as an under-23.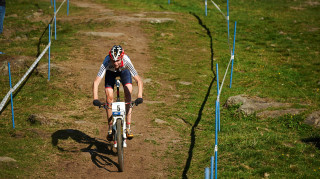 In 2015 Ferguson's preparations for the first world cup have been nothing but extensive; under-23 British cyclo-cross champion, a top-15 finish at the Jayco Herald Sun Tour on the road and most recently a fifth-place finish in the German mountain bike series between Julien Absalon and Nino Schurter.
Finishing with the best two cross-country mountain bikers of this generation did not leave Ferguson disappointed to return to the under-23 ranks in the world cup, however.
"I did have the option" to race elite, Ferguson explained, "but I'm happy to be honest."
"I don't think I should be racing elite yet, I've got plenty of time to be racing at that level and I figure that if I can go race them at the Bundesleiga or Swiss Cup.
If you can drop into those and be competitive, I think that will help me out when I move to elite next year. So I am still getting some elite racing but at world cups I can do my best in under-23."
Speaking after another convincing win at the British MTB Cross-Country Series, Ferguson was distinctly coy when quizzed about his chances for the weekend – but did admit there was a thrill to picking up the number one plate.
"That's pretty cool, it's pretty smart," Ferguson remarked.
"It's a nice thing to have and I'll take a picture of that number. It has been building for a while, that's what I enjoy doing, big races excite me."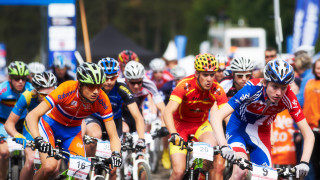 His reluctance to put any specifics as to his expectations for the weekend comes perhaps from experience. Ferguson has suffered his fair share of disappointments on his way to this moment.
His chain snapped at his first world cup as a junior at Dalby Forest in 2010 and he finished dead last. The same happened at the under-23 world championships in 2013 in South Africa and in 2014 a problem with his pedal cost him a chance to get a world medal.
Lining up as number one of 151 riders – all at a world-class level – brings its own problems.
"I know a lot more things now," Ferguson replies, when asked how his five years of world cup racing can help him.
"I know that on the day, if you mess the start up, you're 20th and you're racing for a top ten at best. The racing is that close and at a very high level. So it's all little things. Experience helps but I'm still nervous.
"I enjoy the world cup scene now though because I have an idea, I know how the event works."
As of his chances?
"I'm realistic. I like to progress and my target this year is to progress over six rounds, it's a lot of races.
"I'm happy with what I've done in training. I hope to be involved, I worked hard."